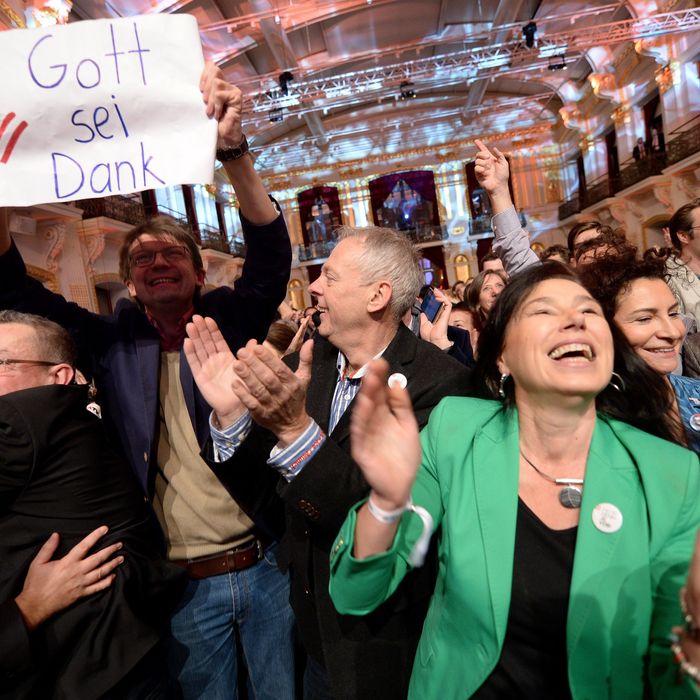 Supporters of new Austrian president Alexander Van der Bellen celebrate his win on Sunday. "Thank God," the sign says.
Photo: Roland Schlager/AFP/Getty Images
Alexander Van der Bellen, a left-leaning pro-Europe former leader of Austria's Green Party, has soundly defeated Norbert Hofer, a far-right populist, in the country's presidential election. The anti-immigrant and nationalist Hofer conceded to Van der Bellen shortly after the polls closed on Sunday, and his loss halts — at least temporarily — a right-wing populist wave that has been threatening to overtake Europe. Furthermore, if Hofer had won, he would have become the first far-right head of state to be democratically elected in Europe since 1945. Speaking after his win on Sunday, Van der Bellen celebrated the result as a victory for freedom, equality, and solidarity, and said it proves that pro-EU candidates can still be successful.
Sunday's vote was a rerun of a May election, which Hofer also lost, albeit by a much narrower margin; that result was eventually overturned due to counting irregularities. The 72-year-old Van der Bellen, a former economics professor who once led Austria's Green Party, appears to have won Sunday's contest by a significant margin despite pre-election polls having indicated the race was extremely close.
During his campaign, Van der Bellen advocated for a liberal and cosmopolitan Austria, and sought to frame Hofer and his anti-immigration Freedom Party as against Austria's membership in the European Union. That strategy appears to have worked, as Van der Bellen emerged with an insurmountable lead on Sunday, obtaining 53 percent of the vote according to preliminary results. As The Economist explains, though the role of president in Austria is a mostly ceremonial one, the position is not without power, and should Hofer and the Freedom Party have won, it could have given them an important foothold toward obtaining the real power of the Austrian chancellorship.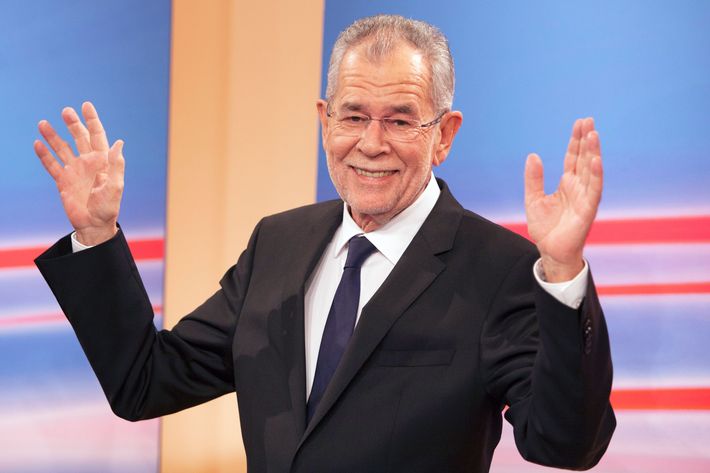 Hofer campaigned on an anti-immigrant, anti-Islam platform, sought improved relations with Russia, and had suggested Austria follow the U.K. in leaving the EU, though he later attempted to walk that position back. According to The Guardian, Hofer's campaign manager, while conceding defeat on Sunday, blamed the loss on Austria's establishment, which he said "pitched in once again to block, to stonewall and to prevent renewal." In fact, it seems that Austria's women were the deciding factor:
Beyond Austria, political parties from across the spectrum in Europe have been watching the race for indications of how upcoming elections in France, the Netherlands, and Germany might play out over the next year. Now, the hope among moderate and liberal political forces throughout the continent is that the result in Austria will help, symbolically, to reverse the far-right's momentum.