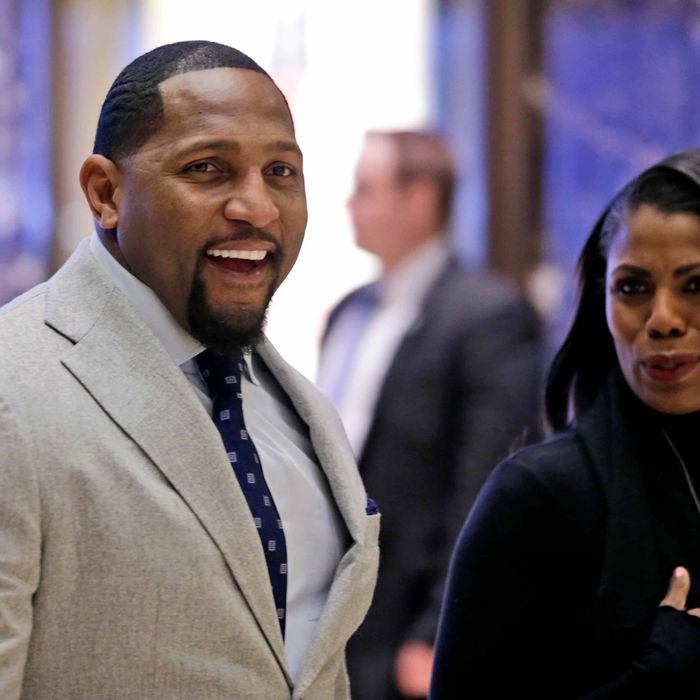 Secretary of Defense?
Photo: Seth Wenig/AP
Not long after meeting with Kanye West Tuesday morning, Donald Trump welcomed former NFL players Ray Lewis and Jim Brown to Trump Tower. Both men were escorted through the building by Omarosa Manigault, a onetime Apprentice contestant and the former director of African-American outreach for Trump's campaign. They were reportedly in midtown to talk about race.
Lewis, arguably the greatest linebacker in NFL history over his long career with the Baltimore Ravens, is probably best known off the field for a 2000 murder charge. After cutting a deal to testify for the prosecution, he pled guilty to obstruction of justice. Since his 2013 retirement, Lewis has worked as a broadcaster for ESPN. Brown's past is complicated, too. The 80-year-old is both a well-regarded civil-rights icon and a man who has been accused of beating or raping women multiple times.
The details of Trump's conversations with the former athletes is not known, but Brown did tell reporters he was there to talk to Trump about "helping people." One way to do that, according to all three of these men — stop talking about police brutality and focus on black-on-black crime.