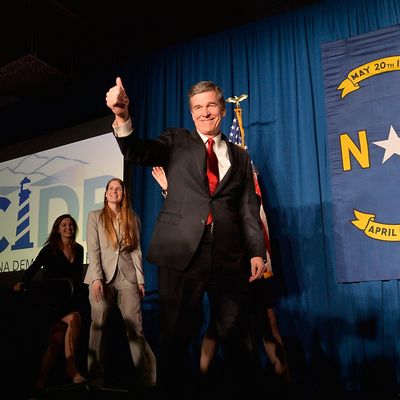 Democrat Roy Cooper will finally get to become governor of the Tar Heel State as Republicans decide against a coup.
Photo: Sara D. Davis/Getty Images
The last major election contest of 2016 outside of Louisiana (which is holding runoff voting on December 10) was resolved today when North Carolina's Republican governor Pat McCrory finally conceded defeat to Democratic attorney general Roy Cooper. McCrory has been trailing Cooper since Election Night by a slowly increasing margin (over 10,000 votes as of today, larger than the threshold for a statewide recount request). A recount in Durham County that McCrory did secure was not changing much of anything.
Until today, some observers were holding out hope or fear that an obscure state law might enable the Republican-controlled legislature to throw out the election on vague grounds of controversy and simply declare the incumbent reelected. As election-law expert Rick Hasen pointed out, such an action would have almost certainly been challenged, with high odds of success, in federal court. Beyond that, McCrory is less than universally popular among North Carolina Republicans, and any fear of Cooper is tempered by the fact that the GOP has super-majorities in both houses of the legislature.
As to how McCrory found himself in this spot even as Donald Trump carried the state by 100,000 votes and GOP senator Richard Burr won by 200,000 votes — well, the consensus is that swing voters in North Carolina weren't happy with the economic cost of HB 2, the anti-LGBTQ measure McCrory signed, which included the especially controversial provision governing public bathroom rules for transgender folk.
More than 200 major CEOs and business leaders signed an open letter calling for the law's repeal. PayPal, the NBA, the NCAA, and Bruce Springsteen, among others, pulled business out of the state. By Wired's estimate, North Carolina has so far lost $395 million — "more than the GDP of Micronesia" — as a result of the law.
As was the case in Vice-President-elect Mike Pence's "religious liberty" law in Indiana last year, it's one thing to stand up for cultural conservatism as an abstract matter. When it starts losing a state big dollars in convention or entertainment-event business, however, the desire to fight the ungodly tends to lose a lot of its impetus. The North Carolina precedent will be duly noted.