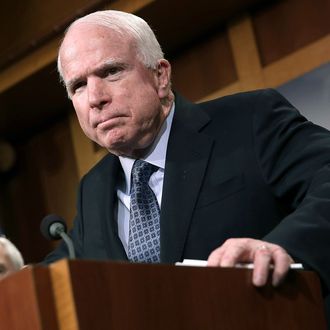 Hey, Putin, get off our lawn.
Photo: Win McNamee/Getty Images
Unsurprisingly, the man who publicly encouraged Russia to hack his opponent isn't tremendously concerned about foreign meddling in U.S. elections. During his Person of the Year interview with Time, Donald Trump said he doesn't believe that Russia interfered in 2016 — then clarified that he thinks it's possible someone tried to throw the election:
I don't believe they interfered. That became a laughing point, not a talking point, a laughing point. Any time I do something, they say 'oh, Russia interfered.'

Why not get along with Russia? And they can help us fight ISIS, which is both costly in lives and costly in money. And they're effective and smart.

It could be Russia. And it could be China. And it could be some guy in his home in New Jersey.

I believe that it could have been Russia and it could have been any one of many other people. Sources or even individuals.
But the president-elect doesn't have time to worry about potential threats to our democracy, as he's focused on figuring out how to troll America with inappropriate cabinet picks. In fact, he might not even know the full extent of Russia's threats against the U.S. since he's reportedly receiving only one presidential intelligence briefing per week. (Vice-President-elect Mike Pence is averaging about six.)
While Trump said he hopes the U.S. can "get along" with Russia, prominent Senate Republicans intend to conduct a "coordinated and wide-ranging probe" into the nation's alleged involvement in the election, according to the Washington Post.
Senator John McCain said the Armed Services Committee, which he chairs, will launch an investigation in the next congressional session into Russia's ability to launch cyberattacks against U.S. military and weapons systems. He said he'll be "working closely" with Select Intelligence Committee Chair Richard Burr, and he expects the probe to also look at Russia's suspected theft of Democratic National Committee emails and hack of state-based election systems.
Senator Lindsey Graham said he wants to hold hearings on Russia's "misadventures throughout the world" as well, since, "They'll keep doing more here until they pay a price."
"I'm going after Russia in every way you can go after Russia. I think they're one of the most destabilizing influences on the world stage. I think they did interfere with our elections and I want Putin personally to pay the price," Graham told CNN this week.
McCain and Graham aren't big Trump fans, but interestingly even one of the president-elect's allies in Congress has called for hearings on Russia: Senate Foreign Relations Committee Chairman Bob Corker, who's been mentioned as a potential secretary of State. As the Post notes, it's been months since he first raised the issue, but Corker told the paper that the hearings will happen in 2017. "We're definitely going to look at it," he said.
Two House Democrats, Elijah Cummings and Eric Swalwell, introduced legislation this week that would create an independent, bipartisan commission to investigate "the scope, methods, motivation and ultimate effect" of foreign interference on American elections." House Republicans have yet to sign on to that effort, but chairmen of the Permanent Select Committee and the Armed Services Committee said they're already probing Russian cyberthreats.
"I think it would be congressional malpractice if we did not look into this," said Cummings at a press conference on Wednesday. "We cannot afford to let this be normal."