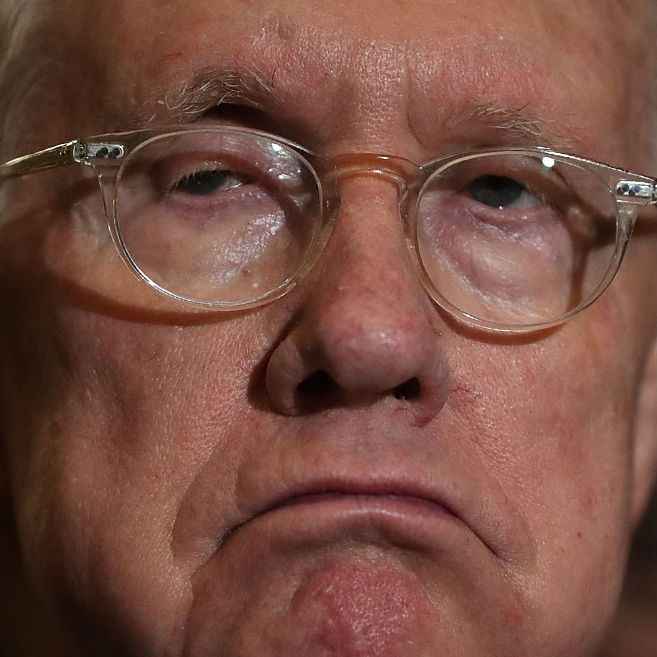 Shots fired.
Photo: Alex Wong; Justin Sullivan/Getty Images
Since Barack Obama moved into the White House, the Democratic Party has lost 870 state and federal offices. They've lost control of the Senate, the House, and will soon forfeit the Oval Office.
Republicans, by contrast, lay claim to 32 state legislatures and 33 governor's mansions — including those in the deep blue states of Vermont and Massachusetts. In 25 states, the GOP has full control of state government; for Democrats, that number is six.
So when Harry Reid said, "I don't think the Democratic Party is in that big of trouble" earlier this month, some progressives went (justifiability) apoplectic.
But this week, Reid made it clear that he was speaking primarily about his party's prospects on the presidential level. And there, his optimism isn't entirely misplaced. This November, the Democrats became the first party in American history to win the popular vote in six presidential elections out of seven. And they came within 80,000 votes of winning the Electoral College, in a year when both the Kremlin and the FBI took unprecedented actions that damaged the party's standard-bearer.
When assessing the Democratic Party's condition in the states, however, Reid is appropriately scathing.
"I believe one of the failures of Democratic Party has been the Democratic National Committee, the DNC, has been worthless," Reid told Nevada Public Radio in an interview published Wednesday. "They do nothing to help state parties. That should be the main goal they have. I developed everything in Nevada on my own. Their help was relatively meaningless."
Reid continued:
So, I would hope that they would choose a chair of the Democratic Party who is a full-time person. Not someone like we had with that congresswoman from Florida, who was a full-time congresswoman and a part time chair of the DNC.

We need a full time DNC chair and what they should do – they can take my model if they want – it's not rocket science. It doesn't take a lot of brain power to figure out what needs to be done. They should take a few states every election cycle, maybe three maybe four, and help them develop the infrastructure for good state party organization.
Reid has standing to offer criticism this vituperative. The man has tended his own garden. On November 8, the Nevada gave its Electoral College votes to Hillary Clinton, its open Senate seat to Democrat Catherine Cortez Masto, and both houses of its legislature to Democratic majorities.
Congressman Keith Ellison and outgoing Labor Secretary Thomas Perez are among the leading candidates to become the next DNC chair. If elected, Ellison has vowed to resign his House seat and devote his full energies to the committee.