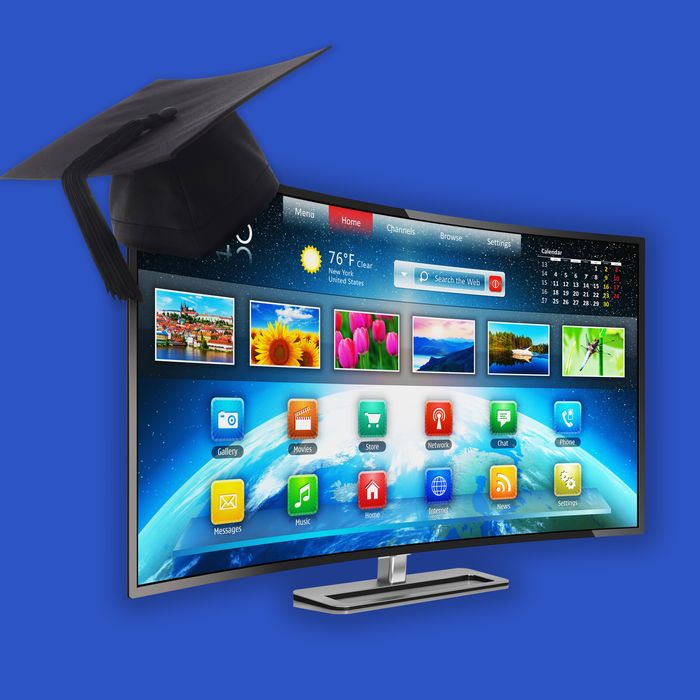 Putting a graduation hat on an actual TV will significantly reduce the picture quality.
Photo: scanrail/Getty Images/iStockphoto
For nearly as long as smart TVs have existed, the standard advice to people looking to stream video to their TV has been "Don't pay more for a smart TV." It was good advice: Many smart TVs that came on the market at the turn of the decade suffered from sluggish response time, poor Wi-Fi antennas, and a user experience that could be generously described as "trying," and anything you wanted out of a smart TV — like streaming Netflix — could be done better by streaming set-top devices like Roku and Apple TV.
But TV manufacturers have continued to pour resources into improving smart TVs, partly out of consumer demand, and partly because it benefits manufacturers to keep you in their operating system. Because of that, I wanted to see how the newest smart TVs stacked up against the basic TV-plus-streaming-device setup I've been using in my home for years. The dream is simple: one remote, one TV, and one power plug to run everything.
I tried out four 4K TVs: the Sony XBR55X850D running Android TV ($998), the LG 55UH7700 running webOS 3.0 ($897), the Samsung UN55KU7000 running Samsung's Tizen platform ($898), and the TCL 55UP130 Roku TV running, uh, Roku TV ($500). My hope was that among the four I could find a smart TV that could potentially allow me to ditch a streaming device altogether.
First off: If you haven't messed around with a smart TV lately, you should know that they've gotten tremendously better. At home I have an LG TV from 2013 running LG's now discontinued "Smart TV" platform (a very good and original name). It often feels like moving through molasses — press a button on the remote, wait a second for the TV to register what I want to do, and then press that button again. The low-res tiled-icon layout looks like an off-brand tablet from 2010. It's limited in many respects, but offers other options that are frankly baffling, like the ability to read a newspaper clipping on my TV. And about every three days it'll completely forget my Wi-FI network, so I'll have to reenter my info. It'll do in a pinch, but it's far from ideal.
But LG TVs in 2016 now use webOS 3.0, the third version of their much-better bespoke smart-TV platform, which simplifies and spruces everything I disliked about my older LG set. Instead of tiled icons, everything is laid out at the bottom of the screen in diagonal ribbons, with the main streaming services easy to get to. The TV's OS also can search across every streaming service for specific shows or movies. Perhaps best of all, if you hold the remote towards the screen, you can move around and select things just by pointing at them. It's a small quality-of-life improvement that feels small at first — until you have to go back to using an up-down-left-right control scheme on another TV remote.
Samsung was the first manufacturer to bring out a smart TV, way back in 2008, so it shouldn't be surprising that its Tizen smart-TV platform is also refreshingly pleasant to use. Using a beautifully pared-down remote (no number buttons!), you can quickly hop into a streaming service of your choice, and search across multiple services quickly. While the two services differed in look and some design choices, they were essentially the same in functionality; both were overall very, very solid.
But both of the above still had a major gap for me — a Sling TV app. In the past year, Sling TV, a service that allows you to stream live TV from cable news to televised sports, has quickly become the main way I watch football in the autumn and winter. Both of them also lacked support for the other real option for streaming live television, Sony's PlayStation Vue (which, confusingly, you don't need a PlayStation to use). As someone who hasn't paid for cable in a decade, these types of services have been a godsend — no more hunting up live streams of games from sketchy Romanian sites or paying $400 for four months of NFL Redzone — so no matter how nice the OS is, I'd still end up buying a set-top box regardless.
The Android TV platform on Sony's television, however, does support Sling TV and Playstation Vue. The Android TV platform in general is much more open than what LG or Samsung allow, offering many, many more apps. Plus, it offers the same ability to screencast from Chrome or an Android device as you'd find in a Chromecast streaming device. That said, the overall UI, compared to the sleek polish of Samsung and LG's smart-TV platforms, comes across as a bit scattered — many things that you could do in one press on a Samsung or LG TV take several more on Android TV. And there was the annoying fact that Android TV felt like it was constantly putting Sony or Google Play options in front of me to buy, while obscuring free or lower-cost options from other sources.
Finally, there was the TCL Roku TV. It's fair to say that I was really looking forward to trying out this TV. The Roku is the best streaming device out there, offering many more streaming options compared to Amazon's Fire stick (which tries to funnel you into an Amazon purchase) or Google's Chromecast (which lacks Amazon Prime's Instant Video unless you're willing to jump through some not-insignificant hoops) and costing markedly less than the Nvidia Shield. The idea that there could be a 4K TV that was built from the ground up on Roku's platform was very, very appealing on paper.
But in the real world, the TCL was a disappointment. Not as a streaming device — it easily outclassed all of the options above for pure ease of use and getting you directly to what you want to watch as quickly as possible. Instead, where it fell down was as an actual television. It's not a fair comparison, because the TCL is about $400 cheaper than any of the other TVs I was looking at, but the panel looked real, real bad. Its blacks were far too bright, even brighter than my much-older 1080p television, which meant that every dark scene I watched looked both too bright and too blurry, with a lack of contrast that made things hard to make out. Worse, there was no real way to try to fix this using the basic TV remote — all I could adjust was overall display brightness. In order to play with color balance, I had to download the Roku App, start a video stream, and then jump into Expert Picture settings. Once there, it allowed me to play around with color temperature but still lacked many of the options that have been standard in TVs for years. Getting a $180 32-inch 720p model for a spare room or as a secondary TV might make sense, but otherwise there are better TVs that cost less, even with the price of a new Roku thrown in.
Bottom line: If you only stream Netflix and Amazon Prime, the LG's webOS 3.0 or Samsung's Tizen platform will both serve you very well, with my personal favorite being the LG TV. If you want to stream live television, Sony's Android TV is a good bet (but only Sony's Android TV platform — other companies using Android TV, like Philips and Sharp, have been cut out from using Amazon Prime's streaming services).
Sadly, I wouldn't recommend getting the TCL Roku TV. Even a top-of-the-line Roku Ultra can be had for under $100, and if you're already thinking of buying a new TV, you're better off buying a TV with a great picture and buying a Roku separately. There are other Roku TV sets out there, but all seem to suffer from the same problem of having a great OS paired with a sub-standard screen for the price.
But while testing the rest of the smart TVs, there was still a nagging problem — each of these TV's guts are built to handle a certain platform, and it's unclear how much they'll be able to keep pace as each manufacturer updates its OS even further. This isn't just about an OS starting to feel slow or look a little dated — some smart TVs from the turn of the decade have lost the ability to stream Amazon Prime because Amazon didn't want to deal with maintaining compatibility, and very few new TV apps are coming out for older smart-TV platforms. Even if you buy a TV now for its smart-TV capabilities, you still may end up purchasing a streaming device down the line.
I badly wanted to end this with a declaration that the era of the add-on streaming device was over, and you can simply buy a smart TV and be set for life. And for viewers who don't stray beyond Netflix and Amazon Prime, that's mostly true. But the one thing testing all these sets convinced me of was that I'm ready to upgrade my television — the picture quality on every set except the TCL was markedly better than what I have at home. When I go shopping for a new set — I'm leaning towards something in Samsung KS8000 series once the post-CES price drops hit, though if money were no object I'd grab a LG OLED screen in a heartbeat — there'll be a Roku box back at home waiting for it.