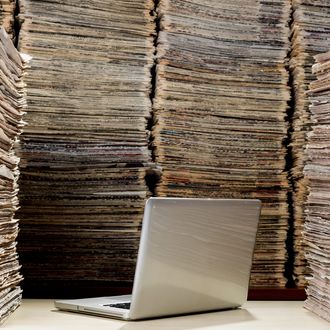 Photo: selimaksan/Getty Images/iStockphoto
What a year for fake stuff on the internet! Arguably the biggest year yet for misinformation and willful dishonesty, whose reach was bolstered and augmented by the social network and filter bubbles that we rely on to keep us informed.
(A sidebar here: "Fake news" means articles fabricated to gain traffic and advertising revenue, not standard-issue reporting errors or slant.)
Analyzing Facebook interactions, BuzzFeed has determined that the following are the most viral fake news stories of the year (full list here).
- "Obama Signs Executive Order Banning The Pledge Of Allegiance In Schools Nationwide" (abcnews.com.co)

- "Woman arrested for defecating on boss' desk after winning the lottery" (thevalleyreport.com)

- "Pope Francis Shocks World, Endorses Donald Trump for President, Releases Statement" (Ending the Fed)

- "Trump Offering Free One-Way Tickets to Africa & Mexico for Those Who Wanna Leave America" (tmzhiphop.com)

- "Cinnamon Roll Can Explodes Inside Man's Butt During Shoplifting Incident" (empireherald.com)

Such a wide variety of (unreal) human experiences! Clearly, this was a big year for political content, which dominated the fake-news sphere. Especially effective was news that emboldened conservative social-media users. The proprietor of abcnews.com.co, Paul Horner, told the Washington Post back in November:
My sites were picked up by Trump supporters all the time. I think Trump is in the White House because of me. His followers don't fact-check anything — they'll post everything, believe anything. His campaign manager posted my story about a protester getting paid $3,500 as fact. Like, I made that up. I posted a fake ad on Craigslist.
2017 is gonna be fun.