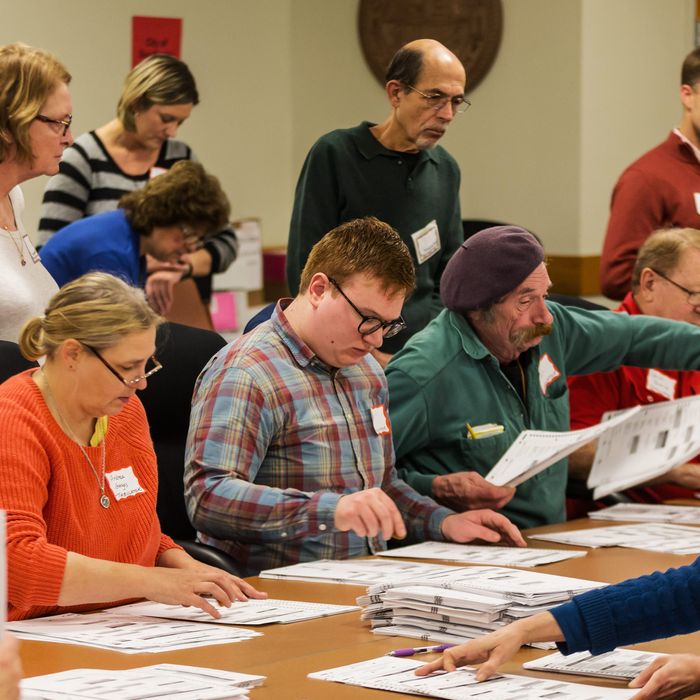 Designated observers watch as tabulators work on recounting presidential ballots in Dane County on December 1, 2016, in Madison, Wisconsin.
Photo: Andy Manis/Getty Images
Green Party candidate Jill Stein filed for recounts in Michigan, Wisconsin, and Pennsylvania. Now supporters of President-elect Donald Trump are suing to block the vote audits in all three of those states won by the Republican candidate.
The recount of nearly 3 million ballots already kicked off in Wisconsin, and auditors are rushing to meet the December 13 deadline. But now two pro-Trump groups — Great America PAC and Stop Hillary PAC — have filed a lawsuit in federal court, claiming, according to the Milwaukee Journal-Sentinel:
That the state's recount process is unconstitutional because ballots aren't treated equally in all cases — a standard used in the 2000 U.S. Supreme Court case that halted a recount in Florida and left Republican George W. Bush as the winner of that year's presidential race with Democrat Al Gore.
The lawsuit also argues that the recount could "unjustifiably cast doubt" on Trump's Wisconsin victory, and that the recount deadline is too close to the Electoral College meeting December 19, thus putting at risk Wisconsin's 10 electoral votes. Wisconsin's Attorney General Brad Schimel is reportedly reviewing the suit, but right now, the recount moves ahead.
In Michigan, where the recount is set to begin next week, attorneys for Donald Trump failed in their first attempt to halt the audit. Michigan's Board of Canvassers split along party lines, 2-2; the tie meant the recount would proceed. But that wasn't the end of it: On Friday, Michigan Attorney General Bill Schuette stepped in, and went to the Michigan Supreme Court. He contended the recount would be costly — Reuters reports that Schuette claims it will cost $5 million, and Stein has only contributed $787,000 so far — and also a big waste of time, since it likely wouldn't change the result. (Trump won Michigan with 10,704 votes — though it's still a smaller margin than his Wisconsin victory at more than 22,000 — over Clinton. Stein, who filed for the recount, got about 1 percent of the vote in both Michigan and Wisconsin.) As the Detroit Free Press notes, the Michigan Supreme Court is majority Republican, 5 to 2.
If the recount does go forward in Michigan, it probably won't start until mid-week — late Tuesday or Wednesday. And Michigan has to recount 4.8 million ballots, making a December 13 deadline seem lofty. Michigan elections director Chris Thomas told the Free Press that the state might be able to get an extension to December 17 — two days before Michigan's electors are supposed to give Trump their 16 votes.
And then there's Pennsylvania, where a judge will hear arguments against the recount Monday. Trump's lawyers and his supporters, including the state's Republican Party, have filed suits to pressure the state to give up the audit. Trump won Pennsylvania by more than 46,000 votes at latest count (though that's still less than the half-percentage point that would trigger an automatic statewide recount); his attorneys argued that "there is no evidence — or even an allegation — that any tampering with Pennsylvania's voting systems actually occurred." Attorneys for Stein, who are trying to block the people trying to block the recounts, asked the court to postpone the hearing until Thursday because not all counties have officially certified the results.
Stein has so far raised $6.8 million of a $9.5 million goal for the three recounts, which has increased a bit since the start of her crusade. Stein, who gets free PR but has no shot of winning herself, says she is just trying to guarantee "the integrity" of the vote, and admits she has no evidence of any fraud or vote manipulation.