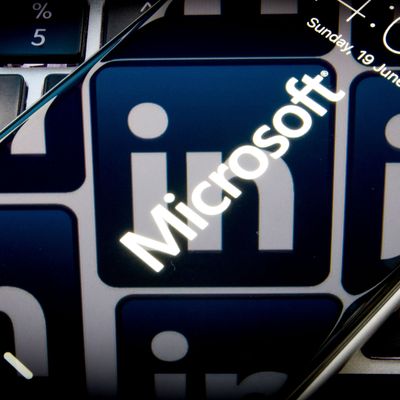 Photo: Jaap Arriens/NurPhoto via Getty Images
When Microsoft acquired LinkedIn, the favorite network of people who describe themselves as "eternal entrepreneurs," for $26 billion, I assumed it would mainly gain access to LinkedIn's network of 400 million users, which might, in turn, boost business analytics and enterprise-software offerings, but keep LinkedIn and the rest of Microsoft's holdings largely separate. Sure, there was some talk of Cortana somehow prepping you for business meetings, but that would be a sideshow, right?


Today, Microsoft's CEO Satya Nadella made it clear that LinkedIn is actually going to sink its hooks quite deep into Microsoft. In a post on LinkedIn, Nadella outlined the plan for LinkedIn and Microsoft:
In the immediate term we will pursue a specific set of integration scenarios, for example:

• LinkedIn identity and network in Microsoft Outlook and the Office suite

• LinkedIn notifications within the Windows action center

• Enabling members drafting résumés in Word to update their profiles, and discover and apply to jobs on LinkedIn

• Extending the reach of Sponsored Content across Microsoft properties

• Enterprise LinkedIn Lookup powered by Active Directory and Office 365

• LinkedIn Learning available across the Office 365 and Windows ecosystem

• Developing a business news desk across our content ecosystem and MSN.com

• Redefining social selling through the combination of Sales Navigator and Dynamics 365

If you're a normal human being, only the first three bullet points really matter to you (though say a prayer for whatever poor souls get wrapped up in "developing a news desk across our content ecosystem and MSN.com"). I'm gonna assume all of this will largely be opt-in (though, God, can you imagine if you had to join LinkedIn in order to open up a Word doc?) but none of the propositions here are really good for a Microsoft customer.

First off, as someone who tries to tell people "Windows 10 is actually pretty good!" on a regular basis, putting LinkedIn notifications in the Windows action center will make me a liar. Unless you are a headhunter, a human-resources person, or work in PR, almost nobody wants to see LinkedIn notifications as soon as they happen. The proper time to see LinkedIn notifications is when you log in to LinkedIn, which is to say: rarely.
Tying a LinkedIn identity into Outlook and MS Office is more problematic. Let's say I tie my LinkedIn ID to my Outlook account here at New York. Next week I am fired after fabricating several interviews and many key facts for my post "Why Google, Facebook, and Apple Are Merging Right Now at This Very Second." When I eventually find a new job writing for one of the web's fastest growing sites, PatriotNewsTruth.net, how will I disconnect my LinkedIn ID and my old Outlook account and connect it with my new one? Will an Outlook admin need to do it? Why did I link my LinkedIn profile to my Outlook account anyway, considering Outlook is widely only used by people at work, and LinkedIn is mainly a place to look for other jobs?
Which brings up the Clippy-esque proposition of letting "members drafting résumés in Word to update their profiles, and discover and apply to jobs on LinkedIn." Let's assume if I am working on my résumé, I am considering leaving my current job. One of few things LinkedIn is really useful for is that you can sometimes see when someone is getting ready to jump ship, because they suddenly are adding new contacts like crazy, endorsing other people, or, of course, updating their LinkedIn profile. So I probably will not want to add in the exaggerated accomplishments I'm furtively bullet-pointing in a Word doc to my LinkedIn profile.

Of course, there are some useful cases here. Someone out of work might appreciate being able to update from a Word doc (though they probably won't appreciate paying for a full license of MS Word while unemployed). Microsoft is getting a social network that nearly everyone is on, even if they mostly don't like using it, which could lead to an internal corporate social network someone would actually use (though, uh, probably not). And there's a chance Microsoft could radically improve LinkedIn, whether by making the network more relevant to professionals outside of HR and PR, or by just making it harder for people you don't know and have never worked with to get in touch with you.
But right now, I mainly see a future where I have to keep telling Windows 10 that, no, I don't want to see when someone wants to become LinkedIn buddies with me, and finding a way to work on a résumé in Google Docs.