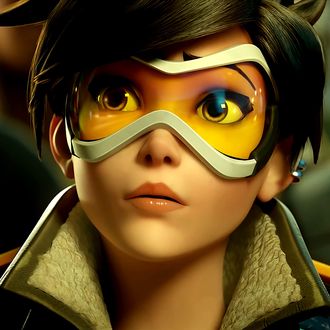 Tracer is gay.
Photo: Blizzard Entertainment
On Tuesday, Blizzard, the developers of the mega-popular online shooter Overwatch, revealed in a supplemental comic that Tracer, one of the characters in the game, is a lesbian. This is a big deal, because Tracer is the closest thing Overwatch has to a mascot — she's the character featured on the game's box art. It's also a big deal because the online gaming community is a roiling mess, and nothing can ever happen without people freaking out. And, boy, did some people freak out!
Almost immediately after the reveal, two very divided camps emerged online: those who applauded the inclusion of a prominent gay character, and those who are mad about "diversity" and "political correctness" being shoved down their throats. Some portion of the latter group seems to be mad because they can no longer be horny about the unrealistically attractive fictional character now that she has been gay in a comic book.
("Waifu" is fandom-speak for "the fictional character I am in love with.")
Needless to say, the outcry is, for lack of a better phrase, extremely stupid. Overwatch is a multiplayer-only arena shooter with no conventional narrative. It's not just that Tracer is a fictional character; it's that she's barely a character at all — she's a drawing whose vague backstory is established through short bits of dialogue, and external, non-game media. Nobody could definitively state Tracer's sexual orientation before Blizzard did this week, months after the game's launch. Nobody knew that Tracer is a lesbian before this week and it has no bearing on how the game is played or how the characters in it act.
(The payload is a vehicle that teams have to move from one end of the map to the other during a match.)
Of course, it's not just the sad horny crew that's upset about Tracer's sexuality. Blizzard was nervous enough about how the comic would be received by fiercely anti-gay legislators in Russia that it declined to release the comic there. And, believe it or not, this is not the first (extremely stupid) Tracer controversy: Blizzard changed a standard victory pose to show less of her butt, and gamers got mad. Gamers will never not need something to be mad about! But sharing cyberspace with a fictional lesbian British woman with the power to manipulate time seems particularly small stakes.