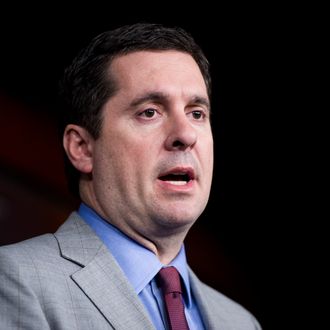 Devin Nunes really doesn't like redundancy.
Photo: Bill Clark/CQ-Roll Call,Inc.
Representative Devin Nunes, the chairman of the House Intelligence Committee, said on Monday that the committee will not launch an independent investigation into Russian election interference but would instead monitor investigations by other groups, which are already ongoing.
"The House Intelligence Committee is conducting vigorous oversight of the investigations into election-related cyber attacks," he said in a statement. "At this time I do not see any benefit in opening further investigations, which would duplicate current committee oversight efforts and intelligence community inquiries." Nunes also implied that he would focus on the veracity of findings by the Obama administration, saying, "We will also closely oversee the production of the report on these attacks requested by President Obama to ensure its analytical integrity."
Nunes is a close ally of Donald Trump, and serves on the president-elect's transition team. His stance on accusations of Russian meddling puts him at odds with other prominent Republicans like Senate Majority Leader Mitch McConnell, who has supported calls for Senate committees to investigate Russia's role in the election. Senator John McCain has gone even further, calling for an independent panel to investigate what the intelligence community has said was sufficient evidence to show that Russia intentionally meddled in the election in order to get Donald Trump elected.
Senators McCain and Lindsey Graham, in conjunction with Democrats Chuck Schumer and Jack Reed, released a statement calling on lawmakers on both sides of the aisle to take the Russian threat to American democracy seriously:
This cannot become a partisan issue. The stakes are too high for our country. We are committed to working in this bipartisan manner, and we will seek to unify our colleagues around the goal of investigating and stopping the grave threats that cyberattacks conducted by foreign governments pose to our national security.