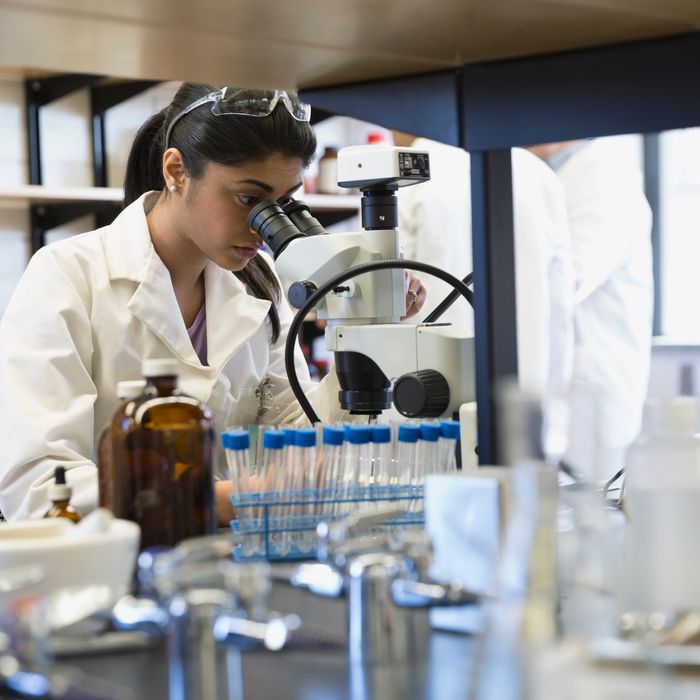 Work to be done.
Photo: Hero Images Inc./Getty Images/Hero Images
Following more than a year of debate, a multi-billion-dollar bill aimed at curing diseases passed the House on Wednesday.
The 21st Century Cures Act, which passed 392-26 with wide bipartisan support, earmarks billions for medical innovation, with $4.8 billion allocated to medical research alone over ten years. It also includes $1 billion for combating opium addiction, and $1.8 billion for Vice-President Biden's proposed "moonshot" to accelerate cancer research. A mental-health bill, touted by the Republicans as their answer to mass shootings, also found a home in the act.
The mental-health legislation will create a new role the Department of Health and Human Services, the assistant secretary for mental health, and will authorize new mental-health grants for things like suicide prevention.
The almost thousand-page-long bill will streamline the process for the approval of new drugs and treatments, and will mean big changes for the National Institutes of Health and the Food and Drug Administration.
It is expected to pass the Senate, but despite strong support from the White House, it will likely face opposition from the left. Both Bernie Sanders and Elizabeth Warren have been outspoken in their dislike of the bill. They claim that it panders unduly to pharmaceutical companies by easing the process of drug approval without addressing their skyrocketing prices, and they are no doubt displeased by reports that 1,455 lobbyists helped to draft the legislation.
Consumer and drug-safety advocates are also concerned that the 21st Century Cures Act will lead to more unsafe and ineffective drugs in the marketplace. Among other changes, it will allow the FDA to use "real world evidence" in place of lengthy clinical trials before approving new drugs.
Some of the act's billions — for example, the money allocated for the National Institutes of Health — are slated to come out of the Affordable Care Act, which Republicans have vowed to dismantle come January.