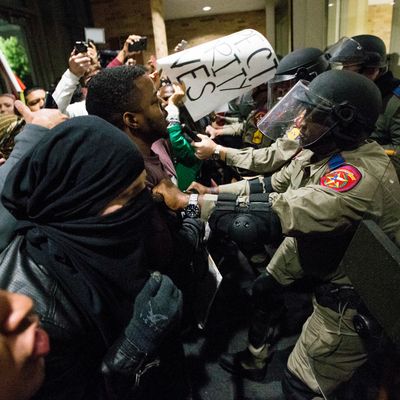 Law-enforcement officers push protesters out of the Texas A&M University student center on December 6.
Photo: Brett Coomer/AP
Hundreds of students came out to protest a speech by the white-nationalist leader Richard Spencer at Texas A&M University on Tuesday.
Spencer earned some notoriety when he was filmed saying, "Hail Trump! Hail our people! Hail victory!" at a white-supremacist gathering in Washington, D.C., last month, as other event attendees gave the Nazi salute.
While about 400 students attended Tuesday's event, hundreds more protested it. Many attempted to get into the venue, or gathered nearby to hear speakers — including the university's president and some of its football players — extol the benefits of diversity and unity. Inside the venue, a few audience members tried to engage with Spencer, while others silently stood raising their fists in protest.
Protestors were met by police in riot gear, and while the protest was almost entirely peaceful, police did confirm that two non-students were arrested.
The administration at Texas A&M went to pains to explain that Spencer was not invited by the university but was asked to come to campus by former student Preston Wiginton, who reserved a publicly available space on campus for the event.