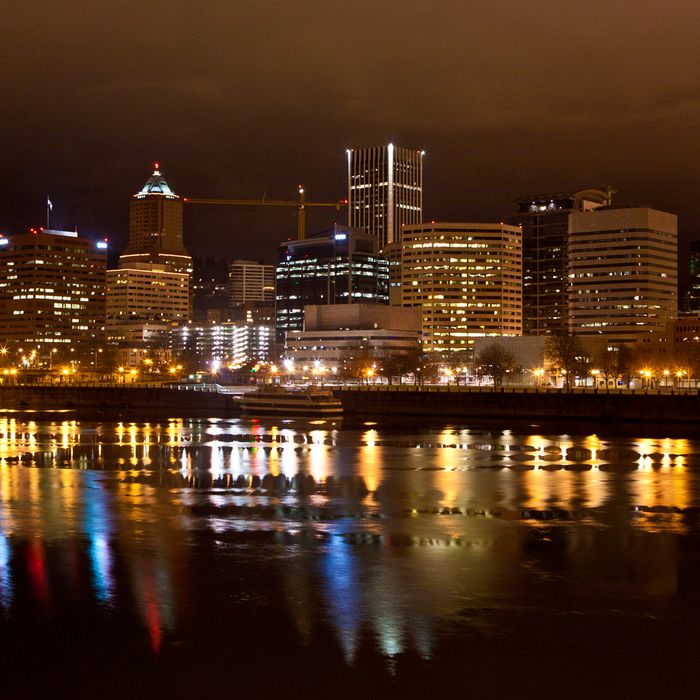 Portland: where the rich are nervous.
Photo: George Rose/Getty Images
Portland, Oregon, is taking concrete steps to battle rising income inequality. On Wednesday the City Council voted to levy a special surtax on any companies whose CEOs make more than 100 times the median pay of their workers.
The move — which passed in a 3-1 vote — makes Portland the first municipality in the United States to tax companies based on their CEOs' pay.
Under the new rules, if the chief executive earns more than 100 times what their employees do, an extra 10 percent will be amended to the company's usual business tax. For a CEO salary of more than 250 times median pay, the company will have to fork out 25 percent.
As it stands, more than 550 companies pay business taxes in Portland, and it is believed that most would be subject to the surtax when it comes into effect next year. All told, experts estimate that the new initiative will bring in an extra $2.5 to $3.5 million every year, which will be put toward the city's basic public services.
The tax had been a passion project of Steve Novick, an environmental lawyer and Portland's city commissioner for the last four years. It will become an important part of his legacy as he prepares to leave City Hall — in a surprise upset, he was ousted by housing activist Chloe Eudaly in November.
After its passage, Novick gushed, "This is as close as I've ever [come] to a tax on inequality itself."
The tax also has the support of the mayor, Charlie Hales. The Portland Business Alliance (PBA) was less than pleased with the new initiative.
The PBA's president and chief executive Sandra McDonough described the tax as "an empty gesture" and said that successful companies were just "an easy group to pick on."