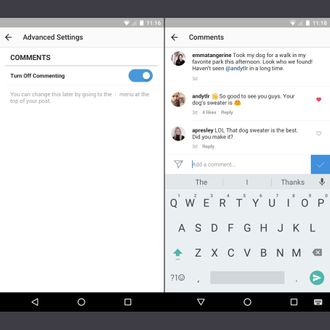 Instagram announced this morning the company is rolling out some major changes that will offer users more control over their experience on the app. Users will have the option to turn off comments on their posts. Now, instead of heeding the internet adage "don't read the comments," users will be able to decide if they even want comments at all. Want to post a selfie and don't give a damn about hearing what people have to say about it? Great. Now you can do just that.
The change, posted to Instagram's blog this morning, follows the company's introduction of a keyword filter back in September. The filter was originally just for celebrities, but Instagram later reintroduced the feature — which allows users to filter out a set list of offensive terms or create their own custom list — for everybody. Similarly, the new no-comments toggle (you'll find it under advanced settings on the app) was originally power-user-only, but will be available to the rest of us peasants in the coming weeks. If you change your mind, you'll always have the option to turn comments back on for that post.
Other forthcoming updates include the ability to like or "heart" a particular comment and discreetly remove followers from your private account. Instagram will also begin offering an anonymous-reporting option for "self-injury posts." "If you believe that someone you care about may be thinking about injuring themselves, you can report it anonymously, and we will connect your friend to organizations that offer help," Instagram explains on its blog (albeit with a strange example about a dog in a sweater). "We have teams working 24 hours a day, seven days a week, around the world to review these reports."
These changes seem simple enough, but demonstrate a big push for user safety and enjoyment from the company. "Comments are where the majority of conversation happens on Instagram," Kevin Systrom explained, so it's safe to say it's a fairly bold move for a company to change up its platform in a way that could make users engage with it less. Still, these changes also create a platform where users can now — at least in theory — have purely positive experiences online, something that will in the long run likely, for Instagram and its parent company Facebook, be better than continuing to require the majority of its users be subjected to potentially unwanted comments.
Of course, these new changes also continue on Instagram's path to becoming more and more like Snapchat with each passing update. Instagram Stories was a carbon copy of Snapchat's famed ephemeral platform. Instagram Explore felt an awful lot like Snap's curated stories section. And now, by letting users opt of of comments — a feature Snapchat already doesn't have by design — Instagram takes one step further into Snapchat territory. Now we'll just have to see if it works.