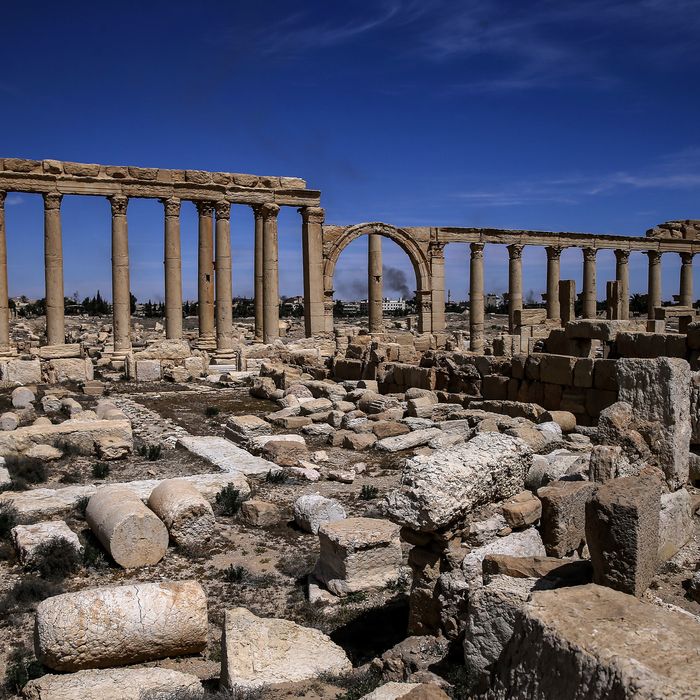 The historic city of Palmyra is a Unesco World Heritage site.
Photo: Valery Sharifulin/Valery Sharifulin/TASS
The Islamic State has retaken the ancient Syrian town of Palmyra after being forced out in March. Earlier Sunday, it appeared that Russian air strikes had succeeded in thwarting the militants' push into the historic city, but later the governor of Homs province, Talal Barazi, confirmed that ISIS had retaken Palmyra, leaving the government troops to regroup outside of the city.
News that Palmyra had fallen to the Islamic State came just a few hours after Russia prematurely declared victory, claiming that its air force had killed more than 300 fighters "repelling all terrorist attacks on Palmyra."
Activists inside Palmyra say that ISIS militants have started moving door to door in the town, searching for anybody believed to be loyal to the Syrian government.
ISIS fighters appear to have taken advantage of the President Bashar al-Assad government's recent focus on Aleppo to regain some of its territorial losses over the past several months.
Palmyra, a UNESCO World Heritage site, is famous throughout the world for its antiquities and ancient ruins. When ISIS first took the city, the extremist group destroyed monuments and even beheaded its archaeological director. Now, though many of the town's valuables have been moved to the capital, officials are concerned that the militants may be even more destructive than they were during their first, ten-month occupation.
And what parts of the city ISIS hasn't destroyed, the Russians might: They have launched 64 air strikes so far in their bid to take back lost ground.
ISIS's progress in Palmyra — even if it is short-lived — represents a major strategic and symbolic victory for the militant group. The world may know Palmyra for its rich history, but it's of strategic importance to the militants given the city's proximity to nearby oil fields. And a victory for ISIS in Palmyra means that the Syrian government may move troops away from the ongoing battle for Syria's commercial center, Aleppo, where Assad — with support from Russia — has succeeded in wresting back control of a huge swath of the rebel-held parts of the city.