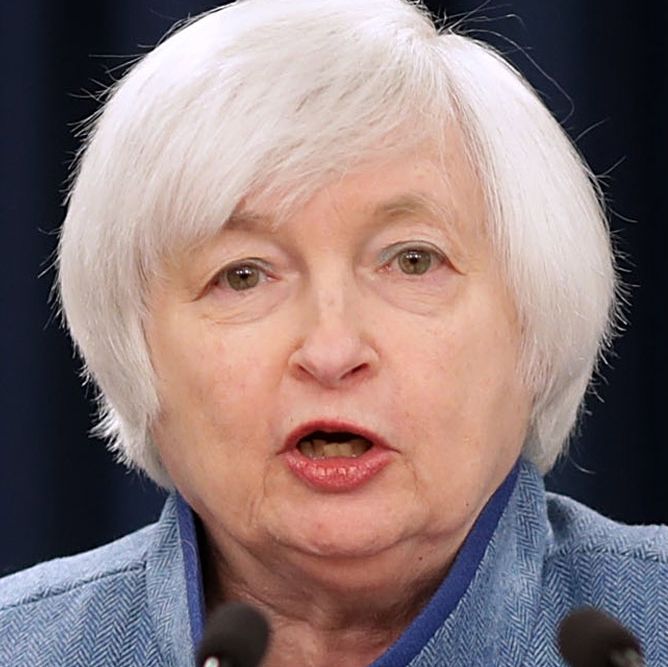 Fed Chairman Yellen wants to convey an atmosphere of normalcy. We do not have a normal president-elect.
Photo: Getty Images
Central bankers are acutely aware that everything they do or don't do, and say or don't say, will be interpreted by investors and forecasters as a "signal" with vast implications for everybody's money, especially in uncertain times. So the Open Market Committee of the Federal Reserve Board and especially Fed chair Janet Yellen were exceptionally careful in how they unveiled today's long-expected quarter-point increase in the prime lending rate. Everything about it screamed "Nothing important to see here, folks":

In her subsequent press conference, Yellen was almost comical in her effort to keep a low profile and not let the extremely unpredictable nature of the administration taking shape in Washington disturb the impression that everything's under control.
The Fed's move, only the second rate hike in the past decade, came on a unanimous 10-0 vote. It also released an updated economic forecast that showed modest changes to its outlook for economic growth, unemployment and inflation, mainly to take account of stronger growth and a drop in the unemployment rate for November to a nine-year low of 4.6 percent …

[I]ts policy statement showed modest changes in wording from the previous meeting. It said "economic activity has been expanding at a moderate pace since mid-year" helped along by solid job growth. And it noted that inflation expectations "have moved up considerably but still are low."

Yellen said regular Americans outside Wall Street would see very modest financial changes from this decision. The increase "should be understood as a reflection of confidence in economic progress and our judgment that that progress will continue," she said.

When asked about the impact of President-elect Donald Trump's tweets on corporate behavior, Yellen said she would not advise him on how to conduct himself on policy.
If only Trump can manage to reciprocate!
Truth is, the Fed's assumptions about the economy are a standing insult to the president-elect:
The central bank kept its long-term estimate for economic growth at 1.8 percent, far below the 4 percent pace that President-elect Donald Trump has said he can achieve with his program of deregulation, tax cuts and increased spending on infrastructure.
And so attention is naturally shifting to Trump's Twitter account to see if he will blast Yellen for doubting he's about to send the economy into hyper-drive by his sheer brilliance and the exhilaration he is inspiring everywhere. At the moment @realDonaldTrump is still displaying a photo of Bill Gates and Jim Brown at Trump Tower with the comment: "two great guys."
Maybe Janet Yellen can remain all but invisible a bit longer.