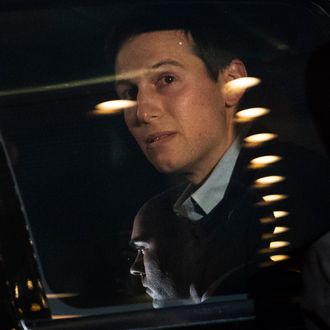 D.C.-bound.
Photo: Drew Angerer/Getty Images
Donald Trump's son-in-law is trying to offload the New York Observer so he can move to D.C. and go to work at the White House, according to Women's Wear Daily. His attempts have been conducted "quietly," the report says, with one potential suitor being American Media Inc., which owns the National Enquirer.

Asked to comment on the rumor, Observer Media chairman and CEO Joseph Meyer did not deny the potential sale, telling WWD, "As one of the fastest-growing businesses in all of digital media, we are constantly being approached by potential investors and partners."
The report goes on to say that Kusher is interested in offloading the Observer to "focus on his budding political career." The 35-year-old is already one of Trump's top advisers, and CNN reported last week that, while his role in the White House hasn't yet been finalized, it "will be in the West Wing and he will likely have an office there."
Kushner denied the WWD report to the New York Post's Keith Kelly, who also spoke with American Media Inc. CEO David Pecker. "There are absolutely no discussions regarding an acquisition of the Observer," Pecker said.