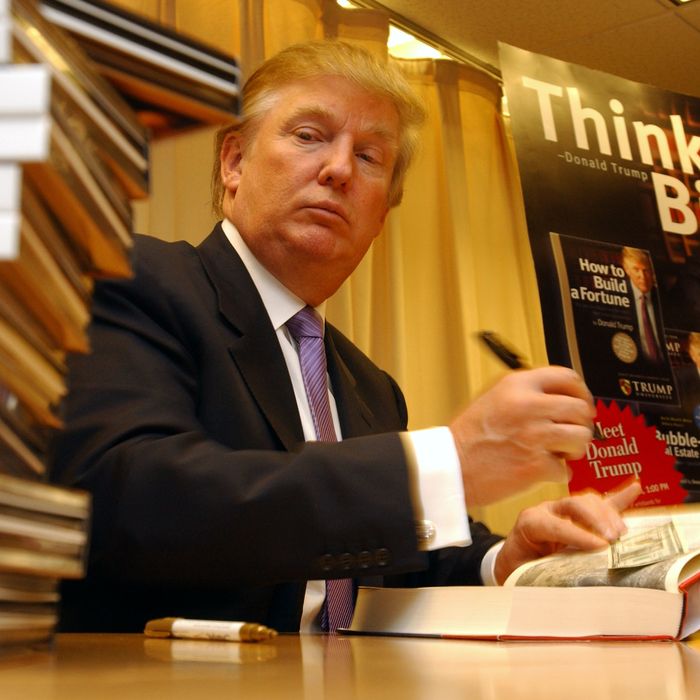 Bad teacher.
Photo: Ramin Talaie/Corbis via Getty Images
Late Tuesday, U.S. District Court Judge Gonzalo Curiel — who Donald Trump notoriously said would not be able to do his job because he is of Mexican descent — gave his preliminary okay to a $25 million settlement for fraud lawsuits relating to Trump University, a predatory scam perpetuated by the president-elect.
Trump bragged on the campaign trail, "I don't settle cases, I win cases"; but when it comes to his recent Trump University lawsuit, at least, he absolutely did settle, and will now have less than one month to raise $25 million to pay off the ex-students of his fraudulent "university." If Trump University isn't able to come up with the cash, then Trump himself will be legally bound to pay the settlement out of his own pocket.
The plaintiffs are Trump University "students" who paid anywhere from $1,500 for a three-day seminar up to about $35,000 for an in-person mentorship that promised to teach them the secrets to succeed in business. It has since emerged that Trump University employees were encouraged to target poor and desperate people and encourage them to max out their credit cards to pay for the courses, courses taught students to lie to increase their credit limits, and Trump himself did not have a hand it developing curriculum.
Under the deal, which was negotiated in November and was officially filed on Monday, written complaints and objections to the settlements from the plaintiffs can be submitted by March — so even if the settlement ultimately gets final approval, appeals could keep the money from actually being handed out for a long time.
When the funds are distributed, 6,000 people in New York and California will be awarded money. If the $25 million settlement stands, students will be able to recoup about half of what they spent in "Trump U" fees, and $1 million will go to New York State for violating education laws.
In a written statement regarding the settlement, a Trump spokesperson wrote:
We are pleased to announce the complete resolution of all litigation involving Trump University. While we have no doubt that Trump University would have prevailed at trial based on the merits of this case, resolution of these matters allows President-Elect Trump to devote his full attention to the important issues facing our great nation.
New York Attorney General Eric Schneiderman had a slightly different take:
In 2013, my office sued Donald Trump for swindling thousands of innocent Americans out of ​millions of dollars through a scheme known at Trump University. Donald Trump fought us every step of the way, filing baseless charges and fruitless appeal​s​ and refusing to settle for even modest amounts of compensation for the victims of his phony university. Today, that all changes.