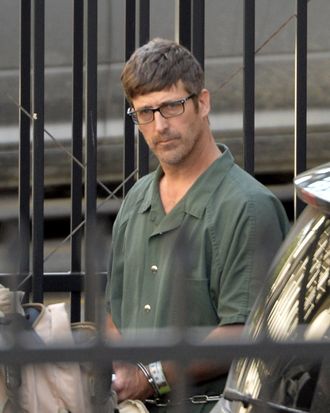 Crawford described himself as a cross between Darth Vader and Forrest Gump.
Photo: Skip Dickstein/AP
Glendon Scott Crawford will spend the next 30 years in federal prison for masterminding an anti-Muslim plot that was as bloodthirsty as it was bizarre.
Crawford had plotted to build an industrial-strength X-ray emitter that he would put in a van parked near places where Muslims congregated. In theory, the device would emit enough radiation to kill scores of people from a distance.
In this case, "mastermind" is probably too generous a term. Crawford, a 52-year-old former mechanic at General Electric and avowed Klu Klux Klan member, lacked the technical expertise and funds to see his plan through. So, in 2012, in an almost comically misguided bid to raise some money, Crawford approached two Jewish organizations and tried to sell them on his plan, assuming that they would be eager to help him attack people he described as the "enemies of Israel."
Instead, the organizations reached out to federal investigators. And so began a nearly 14-month-long undercover investigation in which Crawford unwittingly worked with federal agents to assemble a device that was never going to work in the first place. One of the few people willing to help Crawford who wasn't an undercover agent was sentenced to eight years in prison last year.
It is tempting to dismiss Crawford and his scheme; he allegedly described himself as a cross between Darth Vader and Forrest Gump, and the judge who sentenced Crawford told him, "You are bizarre." Yet his virulent hate was absolutely serious. Crawford referred to Muslims as "medical waste" and boasted to agents that his device would be "Hiroshima on a light switch."
"Everything with respiration would be dead by the morning," he bragged. "How much sweeter could there be than a big stack of smelly bodies?"
Crawford was a resident of Galway, New York, and considered mosques in Albany and Schenectady, New York, as well as the governor's mansion and an Islamic community center and school as possible targets for his terror device.
In a video captured by hidden camera, Crawford can be seen tinkering with his radiation weapon, and rambling confusedly about the physics involved, before a heavily armed group of FBI agents burst in, arresting him.
In the end, a jury deliberated for less than three hours before finding him guilty. He's now the first person to be convicted of attempting to acquire and use a radiological-dispersal device, part of the "dirty bomb" law passed by Congress 12 years ago.