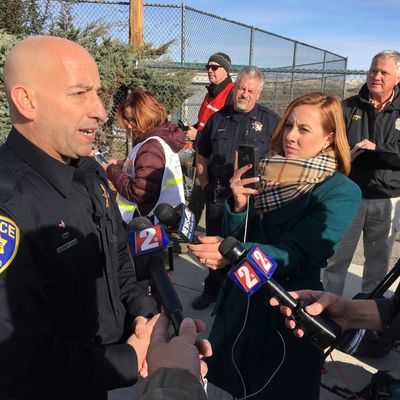 Reno police officer Tim Broadway briefs reporters outside Hug High School.
Photo: Scott Sonner/AP
A teenager is in critical condition after he was shot at his high school by a campus police officer. The 14-year-old had been brandishing a knife and threatening to cut his fellow students when the officer shot him.
Police were called to Hug High School in Reno late on Wednesday morning, where they were told a student had been shot by a Washoe County school-district officer.
Cell phone footage taken at the scene shows the student wheeling around, slashing at passersby with a large knife. A second video shows him lying on the ground, grasping his neck after being shot. The officer is shown crouching over him, apparently attending to his injuries — the footage does not show the shooting itself.
In pictures taken at the scene, the teen appears to have blood on his lip and a fellow student has claimed that he stabbed somebody before being shot — though no injury other than the gunshot has been reported. Apparently the teenager had been in a fight with another student before he drew a knife and began threatening his peers. When he refused to drop the knife, a campus police officer fired one shot, incapacitating him.
Authorities are not releasing the teenager's identity. They have confirmed that he is being treated at a local hospital, and according to a statement from the Reno police department, the officer who fired the shot has been placed on administrative leave.
"I was kind of scared, but I didn't think it was real," said another 14-year-old who said she was in English class when she heard people screaming. "Then people said it was real, and I just felt sick to my stomach."
One parent questioned by the Reno Gazette-Journal said that the boy who had been shot was one of his son's best friends. He claimed that the boy had been "bullied for days."