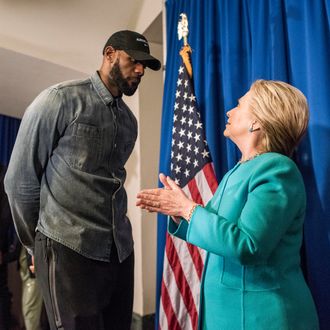 LeBron stays loyal.
Photo: Melina Mara/The Washington Post/Getty Images
The Cleveland Cavaliers are headed to New York City this week to play the Knicks and their taste in hotels is getting as much attention as their skills on the court. Some players, among them superstar LeBron James, are refusing to stay at the hotel their management booked for them: the Trump SoHo.
Cavaliers general manager David Griffin said on Monday that the team would find alternative accommodation for any players who don't want to stay at a Trump property and that plans have been made for any "group that wants to be elsewhere to be together elsewhere."
This isn't the first time Trump's hotel chains have posed a problem for the NBA. In the run-up to the election, the Milwaukee Bucks, Memphis Grizzlies, and Dallas Mavericks all decided to avoid Trump properties so it wouldn't appear as if they were supporting the divisive president-elect.
James's stance shouldn't come as much of a surprise. He was an outspoken supporter of Hillary Clinton's campaign, and at least two of his teammates — Iman Shumpert and Richard Jefferson — have raised the possibility that they would not visit the White House under a Trump presidency. In fact, according to Griffin, up to half of the full 14-man team has refused to stay at hotels that bear the Trump name — even though Trump himself no longer has an actual ownership stake in the property.
The reservations were made before Trump won the presidency and Griffin has said that the team picked the Trump SoHo because it was the only luxury hotel in Manhattan guaranteed to have vacancies during the playoffs.