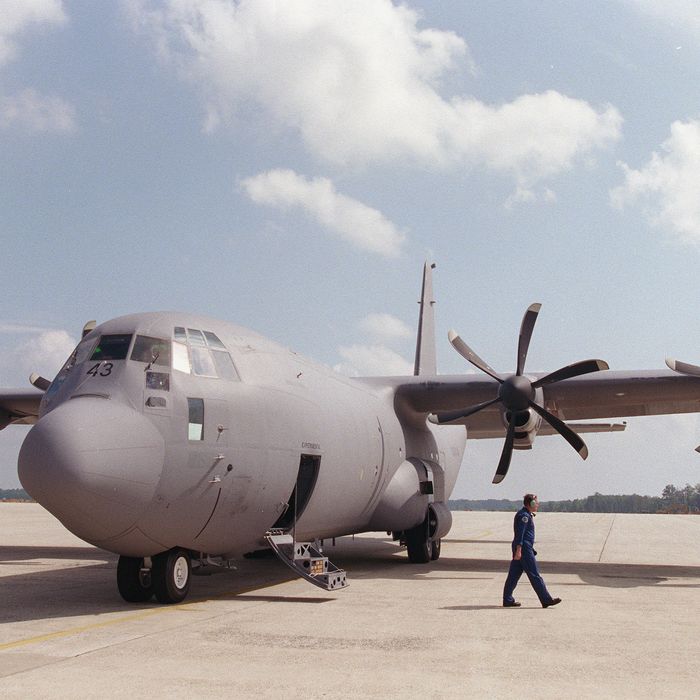 A Lockheed C-130 Hercules like this one was spotted circling near Trump Tower.
Photo: Scott J. Ferrell/CQ-Roll Call,Inc.
A low-flying military plane was spotted circling over Manhattan on Wednesday afternoon, sending panicky New Yorkers to Twitter in droves. Their concern only deepened when two Black Hawk helicopters were also seen circling nearby.
As first reports of the sightings started coming in, even seasoned journalists weren't able to solve the mystery. When reached for comment, the NYPD said that they had no knowledge of what the aircraft were doing.
Soon aviation experts were able to confirm that the plane was a Lockheed C-130 Hercules, a lumbering military transport plane owned by the 102nd Rescue Squadron of the New York Air National Guard.
Eventually Washington Post reporter Thomas Gibbons-Neff got in touch with the Air Force, who admitted that the flights were approved by the FAA. He quoted Air Force Colonel Nicholas Broccoli, saying that the flights were all part of a "standard military training."
Mashable was able to confirm, speaking to Eric Durr, director of Public Affairs at the New York State Division of Military and Naval Affairs, that the aircraft were carrying a crew from Gabreski Air National Guard Base in Westhampton, who were on a training mission "in retrieving people who are down behind enemy lines."
It was not much of a leap for many New Yorkers, including a few reporters, to see a connection between the flight and the man who just became the city's most powerful resident.