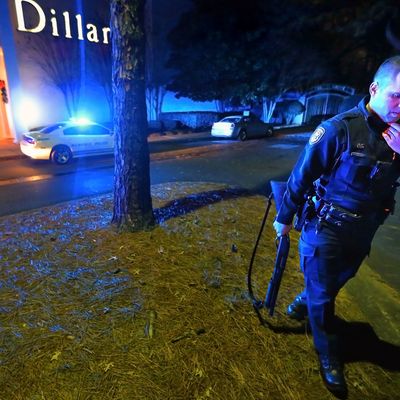 A heavily armed police officer blocks the entrance of the Oak Court Mall in Memphis.
Photo: Jim Weber/AP
Fights involving hundreds of teenagers broke out in malls across America on the day after Christmas and videos uploaded by shocked shoppers of holiday mayhem have become ubiquitous on social media. Police have so far reported 15 similar incidents in crowded malls from coast to coast including at shopping centers in New Jersey, Connecticut, Texas, and Tennessee.
All told, by the end of the day, pandemonium had broken out at shopping malls in 12 states with some states like Tennessee and Connecticut reporting multiple incidences.
Police were forced to put the upscale Hullen Mall in Fort Worth, Texas, on lockdown after more than 200 teenagers began fighting with each other, running, and screaming in a mall-wide rumble.
In Beachwood, Ohio, the Beachwood Place mall was also put on lockdown after a chaotic fight broke out between more than 500 teenagers. In the end, it took officers from three separate jurisdictions — some using pepper spray — to restore order.
Hundreds of rampaging teens forced the Shoppes at Buckland Hills in Manchester, Connecticut, to close early, and the city had to call in extra buses to take all of the teens home. In Aurora, Colorado, police were arresting one fight participant when the crowd of onlookers became restive, swelling to more than 500 people. The mall had to be shut down and evacuated. Another mall in another town named Aurora, this one outside of Chicago, was also temporarily shut down after a similar incident there. At least eight juveniles from 13-to-17 years old have been charged in that disturbance.
In Memphis, seven people were arrested after two brawls broke out in malls only ten miles apart. Nationwide, many mall-fighters were arrested; one, in Cleveland, for allegedly pushing a police officer.
Meanwhile, in Chattanooga, Tennessee, chaos broke out with shoppers being pushed to the floor after some teens set off fireworks, allegedly to distract people while they shoplifted. Inevitably mallgoers thought someone was shooting a gun and panicked.
Nervous shoppers mistakenly believing that they heard gunshots were a common feature of many of the brawls. During a fight in a mall in Elizabeth, New Jersey, a widely heard gunshot turned out to actually be the sound of someone throwing a chair.
In Fort Worth, a SWAT team actually stormed a mall where gunshots were erroneously reported. In all, more than 70 people called 911 nationwide believing that they heard gunshots.
Somehow, there were no major injuries reported during any of these fights or in the ensuing chaos as terrified shoppers fled. In New Jersey, two children suffered minor injuries while trying to escape, and in North Carolina, medical personnel responded after one person had a medical episode while trying to get away from the mob.
Though the size and pervasiveness of this year's brawls is unprecedented, holiday-mall fights are not a new phenomenon. Just ask anybody who shopped at Kings Plaza in Brooklyn the day after Christmas in 2013 when more than 300 teens started a small riot.
While the scale of the incidents led some officials to conclude that they were organized on social media — police in Ohio claimed the mall brawl there was "loosely organized on social media" — no evidence of premeditation has turned up.
Speaking to the New York Times, Gary Haba, a captain in the Beachwood Police Department, said he doubted that the fights were organized at all: "I don't think there's Dr. Evil sitting around in some chair somewhere directing everybody to do this. It just seemed like kids showed up and they were waiting to start seeing some mayhem."