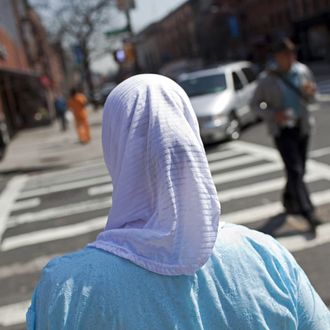 Photo: Robert Nickelsberg/Getty Images
Add another awful incident to the string of apparent hate crimes in New York City: A Brooklyn man has been arrested after he reportedly tried to pull of a woman's hijab after getting ticked off in an alleged road-rage incident.
Michael Isakharov, 40, also shouted anti-Muslim slurs at 22-year-old Gehad Elsayed after the two had a run-in on Ocean Parkway in Brooklyn on the morning of November 14. Elsayed she was making room for a driver — now ID'ed as Isakharov — to pull into her lane on the boulevard, when she noticed him staring at her. According to her, Isakharov followed her, and at the intersection of Avenue C and Ocean Parkway, pulled in front of her car and boxed her in.
"And then he gets out of the car," Elsayed told the New York Daily News. "He starts yelling, 'You Muslims don't drive for a reason! Muslims aren't allowed to drive in Saudi Arabia! Trump is now president, you guys are gonna be moved out of here sooner or later!'"
Elsayed tried to take a picture of the suspect with her work cell phone, which he flung to the ground. She attempted again, this time with her personal cell phone, and that's when the apoplectic Isakharov reached into her car and tried to wrench off her hijab. He fled the scene in his car; Elsayed was able to get a clear enough picture of her attacker and his license plate, which helped police track him down.
Isakharov was arrested Wednesday, and has been charged with aggravated assault as a hate crime and criminal mischief. This incident is part of a disturbing uptick in bias attacks in the past month. The NYPD said earlier this week that 43 hate crimes have been reported since Election Day, more than double the number reported at this time last year.