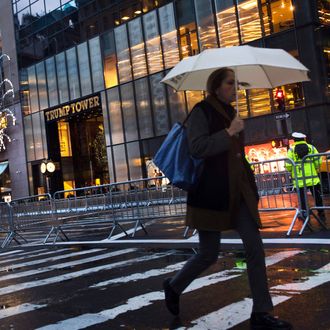 Open for business.
Photo: Dominick Reuter/AFP/Getty Images
Mayor de Blasio ordered the reopening of 56th Street between Fifth and Sixth Avenues Tuesday night. The road had been barricaded as a part of NYPD's protection plan for the nearby Trump Tower.
The reopening came in response to complaints from local merchants who said revenues have dipped 30 percent since Election Day, when barricades went up. Now cars can travel freely on the street and pedestrians have an easier time passing storefronts on the stretch.
"This change will normalize commercial activity on the block and ensure that small businesses on 56th St. will not become a casualty of the Trump Presidency," said City Councilmember Daniel Garodnick, who campaigned for the removal of the barricades.