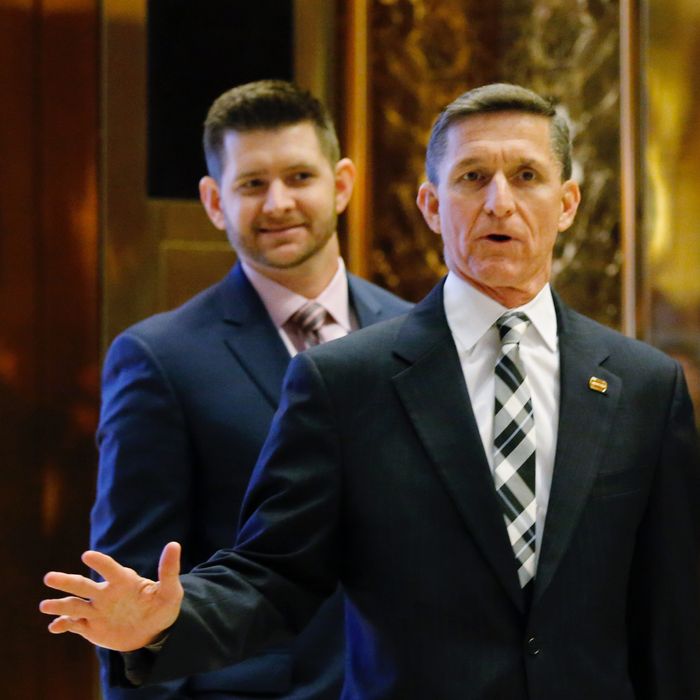 The Flynns.
Photo: Eduardo Munoz Alvarez/AFP/Getty Images
Michael Flynn Jr., the son of Donald Trump's pick for National Security Adviser, has been pushed away from the Trump transition after tweets suggesting that the absurd Pizzagate conspiracy theory is real.
On Tuesday, Trump spokesman Jason Miller told Politico, "The younger Michael Flynn was helping his father with some administration and scheduling duties early on in the transition process and he is no longer involved with transition efforts." Earlier in the day on Morning Joe Vice-President-elect Mike Pence insisted that Flynn Jr. "has no involvement in the transition whatsoever."
On Monday CNN uncovered Flynn Jr.'s role when he was found to have an official .gov email address. Foreign Policy also reported Monday that the younger Flynn "assisted in personnel vetting, managing his father's schedule, and fielding transition-related emails for the general." He also accompanied his father on "a ton of meetings," FP reports.
Though Miller's statement suggests Flynn Jr.'s role ended before the Pizzagate tweets, Jake Tapper reported that he was still involved with his father's transition work as early as Tuesday morning.
Flynn Jr. became a liability for the Trump transition on Sunday when he tweeted about Pizzagate, the conspiracy theory that ties Hillary Clinton a child sex ring. After first suggesting that the theory needed to be "proven" false, he retweeted a sub-theory that has emerged since a gunman showed up at the pizza place to investigate. The new theory suggests that the gunman is an actor, hired to discredit those pushing Pizzagate.
Pizzagate does not mark Flynn Jr.'s first foray into the world of conspiracy theories. He's also tweeted about Marco Rubio's cocaine-fueled foam parties, President Obama's contempt for Christians, and is a proud supporter of InfoWars.