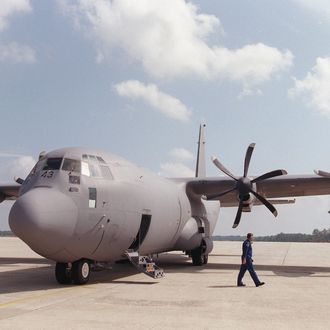 A C-130J-30 Hercules cargo plane.
Photo: Scott J. Ferrell/CQ-Roll Call,Inc.
A low-flying military cargo plane and two Pave Hawk helicopters buzzing above midtown Manhattan briefly freaked out the city last Tuesday. The FAA explained that U.S. military aircraft were "conducting authorized flights over New York City in coordination with FAA air traffic control," and the New York State Division of Military and Naval Affairs confirmed that crews were on a training mission, which made everyone relax a little bit.
Turns out, they may have been training for a very specific mission: evacuating soon-to-be President Donald Trump from New York City in case of a major emergency or attack in the future. Reports DNAinfo:
Sources told "On the Inside" that the flyovers were part of an "emergency relocation drill" designed to identify locations, primarily in Central Park, where a chopper could touch down near Trump's home inside Trump Tower on Fifth Avenue and 56th Street, and safely evacuate Trump and others from the city.

"It was the military doing their homework," one source said.
Sources told DNAinfo that once the Secret Service whisks Trump out of White House North and to Central Park, he'd be brought either to Washington, D.C., or to secret locations in Virginia or West Virginia.
At the time of the drill, the NYPD told a BuzzFeed reporter it didn't know why the plane was circling. Police did get notice, but it was reportedly last-minute and didn't include the important detail of exactly what type of aircraft would be flying overhead. NYPD Commissioner James O'Neill told reporters after the flyover that the city was working on improving notification procedures.