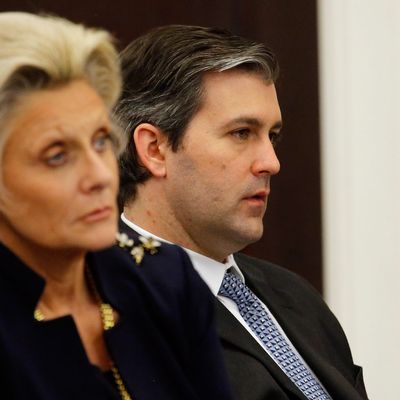 Michael Slager still faces state and federal charges.
Photo: Grace Beahm-Pool/Getty Images
A South Carolina judge declared a mistrial Monday in the murder case against Michael Slager, the white former police officer who was recorded killing an unarmed Walter Scott as the 50-year-old was at least 17 feet away from him. After 22 hours of deliberation, the jury could not reach a verdict and eventually told the judge, "Despite the best efforts of our members we are unable to come to a unanimous decision."
On Friday, a juror wrote a note to the judge indicating that he was the lone holdout who could not "with good conscience approve a guilty verdict." Another note from the foreman to the judge confirmed this. "It's just one juror that has the issues," the note said. "That juror needs to leave. He is having issues." The jury was given the option of convicting Slager on murder or manslaughter charges.
On Monday, a different story emerged. A new note from the jury said a "majority is still undecided" and the group asked the court a series of questions.
Slager, who claims he feared for his life when he shot Scott in the back, will remain free but the murder charges against him will not disappear. While a new trial is possible, so too is a plea deal that avoids it. He also faces federal civil-rights charges, which are set to be heard early next year.