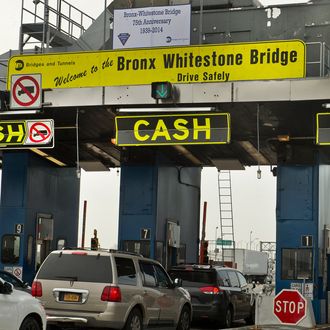 So long.
Photo: Patrick Cashin/MTA
Tollbooths on seven New York City bridges and two tunnels are about to be a thing of the past. Governor Andrew Cuomo announced Wednesday that starting next month they will start being replaced by an electronic payment system that should speed up traffic. All told, the state says the new system will save drivers up to 21 hours of drive time a year and conserve a million gallons of gas.
For those who use E-ZPass, the process will be familiar, but for those who are used to paying cash, it will change. Rather than paying at the gate, they will receive bills in the mail. And if they don't pay those bills, there will be consequences: first, late fees and then suspension of registration.
And another thing, if you're thinking of flying through the tolls so fast that the cameras can't get a shot of your plates, they say that won't work. Of course, you won't know until you try.