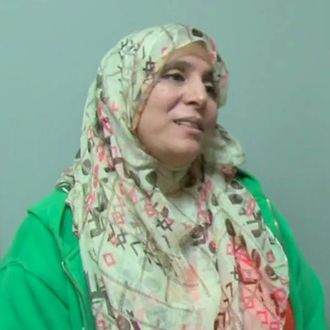 MTA agent Soha Salama wore her transit uniform and her hijab on her way to work Monday morning, when a man approached her on the 7 train and reportedly said, "You're a terrorist, go back to your own country!" He also allegedly pointed at her MTA patch and told her she shouldn't be working there.
Salama got off the train at Grand Central Terminal. The man followed her, and he pushed her down a flight of stairs, according to police. Salama, a 45-year-old Queens mom of four who's lived in the U.S. for two decades, was badly bruised, sore, and twisted her ankle. "I wasn't able to say anything. I was running for my life," Salama told WCBS 2. "I was afraid he was going to throw me down the tracks or do more bad to me than he already did. He was like pushing me down."
Salama said this is the first time she's dealt with something like this living here. Police are investigating the incident, and the suspect is still at large.
NYPD officials said the city is witnessing a big spike in hate crimes since Donald Trump won the election — 43 cases since November 8, which is more than double (up 115 percent) the number reported over the same period last year, reports the New York Times. In 2016 overall, reported hate crimes are up more than 35 percent from 2015. Many include reports of anti-Semitic harassment, including swastikas drawn on the 1 and B trains. Commuters also discovered KKK flyers on the LIRR this month.
But Salama's story echoes a string of apparent anti-Muslim incidents in recent days. Last week, an 18-year-old Muslim woman, wearing a hijab, told police three men — all apparently drunk — came up to her on the 6 train and shouted, "Donald Trump! Donald Trump!" They reportedly tried to remove her hijab, telling her: "Get that fucking thing off your head!"
And over the weekend, an off-duty NYPD cop — who was also wearing her hijab — and her 16-year-old son were threatened in their Bay Ridge neighborhood by a man and his pit bull. NYPD cop Aml Elsokary found the suspect pushing and shouting expletives at her son; when she approached the man he reportedly screamed something about ISIS, saying "I will cut your throat, go back to your country!" The suspect, 36-year-old Christopher Nelson, was arrested and arraigned Monday. He has been charged with menacing as a hate crime, a felony.