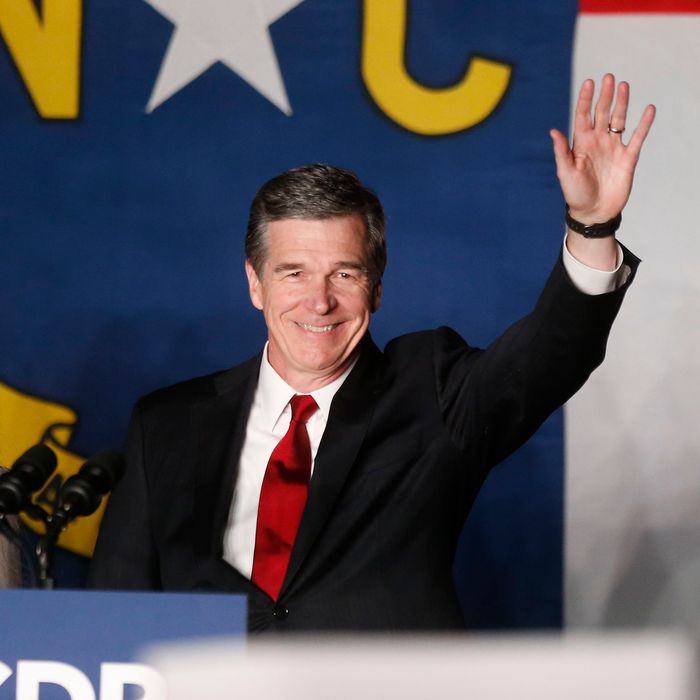 Roy Cooper greets supporters during an election party on November 8.
Photo: Ethan Hyman/TNS via Getty Images
After Republican North Carolina governor Pat McCrory lost his reelection bid by a few thousand votes on November 8, he claimed that there was widespread voter fraud in the state, dragging out the contest for nearly a month. Even GOP-controlled county election boards dismissed most of the complaints from McCrory's campaign, and after a recount failed to produce any significant change in the results, the governor finally conceded.

Republicans in the North Carolina legislature are having an equally hard time accepting that Democrat Roy Cooper is the state's next governor, and their effort to fight back might actually work. In a surprise special session called on Wednesday, Republicans in the North Carolina General Assembly introduced a raft of bills that would make sweeping changes to how the state government operates, stripping power from Cooper before he's sworn in.
Legislators were back in Raleigh this week for a special session that was ostensibly meant to address aid for victims of natural disasters. Rumors swirled that Republicans were planning to pack the State Supreme Court, where Democrats gained a 4-3 advantage last month, by adding two more justices appointed by McCrory. Instead, Republicans surprised Democrats by calling a new special session, which documents show had been in the works for days.
"This is why people don't trust us, this is why they hate us … because of this right here — using hurricane relief as the reason to come back to Raleigh to do a lot of things because you lost an election by 10,000 votes," Democratic representative Darren Jackson said on the House floor.
Republicans in the General Assembly then introduced bills that would end the governor's control of election boards, require the State Senate to approve his cabinet members, and take away his power to appoint University of North Carolina trustees. Another bill would cut the number of employees who serve at the governor's pleasure from 1,500 to 300. That would reverse a large expansion that the Republican legislature approved during McCrory's term, extending Civil Service protections to hundreds of managers in state agencies who carried out the Republican's agenda.

No court-packing measure was unveiled, but a bill was introduced to make State Supreme Court elections partisan, apparently because Republicans believe Judge Mike Morgan, who will shift the balance of the court, would not have been elected if voters knew that he's a Democrat. Another bill would eliminate the right to make a constitutional challenge in a direct appeal to the State Supreme Court, which will have a Democratic majority. Instead, such cases will have to go through the state appeals court, which will have a Republican majority. According to the News & Observer, the current process was approved by the GOP-led legislature when Republicans had a 4-3 majority on the State Supreme Court.

One of the most significant proposals is the effort to change the state's election boards. The State Board of Elections would be expanded from five to eight members, and county boards would go from three to four members. There would be an equal split between Republicans and Democrats on the boards, which allows the GOP to claim it's trying to be fairer. However, they showed little interest in bipartisanship when they had power over the board of elections. The bill would also let the opposition party chair the state board in even-numbered years, which just happens to be when congressional and presidential elections are held.

North Carolina will hold congressional elections in 2017, but that's only because last summer a federal court struck down several sweeping changes to state election laws passed in 2013. The court found the state's voter-ID law was "passed with racially discriminatory intent," and that the state must undo its racially gerrymandered districts and hold new elections next year.

The bills won't get a vote until Tuesday, but Democrats will have difficulty challenging them because Republicans have large majorities in the North Carolina General Assembly. The North Carolina NAACP has called for a protest on Thursday morning.

Republicans didn't make much of an effort to disguise their attempt to gain more power before Cooper's swearing-in. House Rules Committee Chairman David Lewis said earlier in the day that legislators would "work to establish that we are going to continue to be a relevant party in governing this state." He added, "Some of the stuff we're doing, obviously if the election results were different, we might not be moving quite as fast on, but a lot of this stuff would have been done anyway and has been talked about for quite some time."
House Democratic Leader Larry Hall said Cooper was fairly elected, and Republicans are essentially attempting to "nullify the vote of the people."