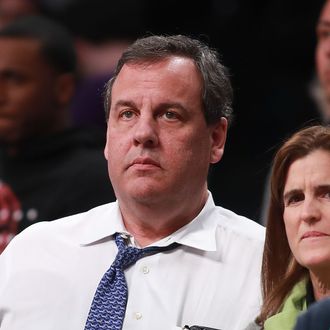 He fetched Trump's McDonald's for this?
Photo: Michael Reaves/Getty Images
First Chris Christie got cut out of the Trump transition team, and now New Jersey lawmakers won't even let him console himself by implementing some Trumpian moves at home. On Monday night, Republican and Democratic lawmakers killed legislation that would have let the governor profit from a book deal while in office, and give his cabinet officers raises, The Record reports. They also delayed legislation dubbed the "newspaper revenge" bill, which would have significantly cut revenue for local papers by changing how legal notices are posted.
By law, Christie's only source of income is his $175,000 annual salary, but he negotiated a deal with top lawmakers to increase salaries for workers throughout the three branches of state government — including legislative aides, judges, Cabinet officers, and county prosecutors. In exchange, state ethics laws would be relaxed to allow Christie and other top officials in his administration to profit from publishing deals while in office.
Several days ago, it looked like the bill would pass, but lawmakers dropped their support following a public backlash against the proposal, which would have cost taxpayers $7.5 million in 2017 and at least $10.6 million in subsequent years, according to estimates from the Office of Legislative Services. While that's a small portion of the state's nearly $35 billion budget, in light of a recent 23-cent-per-gallon gas-tax increase, the plan was poorly received.
Christie was also hoping to implement a bill that would have allowed notices required to be posted publicly — such as ads for bid opportunities and public hearings — to be published online rather than in print. The governor claimed this would save businesses $80 million per year, but did not provide data to back up that number. Newspapers disputed that number, and said the change would force them to lay off hundreds of people. NJ Advance Media said 7 percent of its profit comes from legal advertising.
Democratic Assemblyman John Wisniewski, who intends to run for governor next year, said the bill was a "revenge bill" and a "politically motivated crackdown on the press in New Jersey." Christie's office denied that characterization.
The newspaper bill will be debated next year, and it's unclear if the salary bill will come up again. Supporters noted that some legislative staffers haven't seen a pay increase in a decade.
For now, the legislature's failure to pass the bills is yet another defeat for Christie, who frequently touted his ability to make bipartisan compromises while he was running for president. Christie only has one year left in office owing to term limits, and he currently has an 18 percent approval rating.