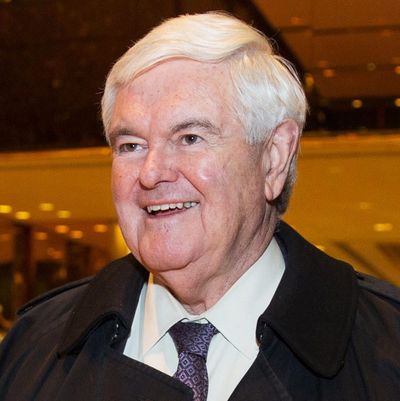 The Newt Show just got more expensive.
Photo: Kevin Hagen/Getty Images
Every time there is a changing of the guard in the White House — and especially if party control flips as well — those senior figures close to the new president have a very important choice to make. They can go into the new administration and seek to shape the course of national and global events, knowing they will have to put up with crazy working hours, tight ethics rules, backstabbing colleagues, ambitious and tireless youngsters, and accountability for real-life developments. Or they can stay out of the administration and trade on their relationship to POTUS by bloviating about the course of national and global events for big bucks.
Former House speaker Newt Gingrich did not take long at all after the election of his buddy Donald Trump to choose the latter route. First, he signaled that he was not especially interested in a cabinet gig, preferring to serve as an informal adviser outside the administration who could kibitz on, well, pretty much everything. To make it clear that he was not planning to begin the long walk to the nursing home, Gingrich modestly allowed as to how he envisioned himself as the "chief planner" of the Trump revolution. But it's also clear this won't be an official position, so don't go looking for it on some White House personnel chart. The other shoe dropped when the speaking bureau that markets Newt's appearances announced his price was about to go up, as Politico reported:
Gingrich's speaking agency, Worldwide Speakers Group, sent out a notice Thursday afternoon with the subject line "Newt Gingrich Fee Increase." "Few people in the world have as much insight into President-elect Trump's philosophies, principles and objectives as Newt Gingrich," the email read.
This is an entirely rational decision for Gingrich. He has not, after all, been very good at the governing thing. His sole stint of actual power, from his elevation to the speakership in 1995 to his abrupt resignation in 1998, was a long downward spiral that made him a national pariah and a scapegoat for the whole disastrous Clinton impeachment gambit. He has been a whole lot better at being a huckster, a commentator, a filmmaker and book writer, and the proprietor (most recently along with his third wife, Callista) of "Gingrich, Inc." Here's how the Washington Post described his success in this unofficial but lucrative role five years ago, before he finally decided to run for president.
Former House speaker Newt Gingrich transfigured himself from a political flameout into a thriving business conglomerate. The power of the Gingrich brand fueled a for-profit collection of enterprises that generated close to $100 million in revenue over the past decade, said his longtime attorney Randy Evans.

Among Gingrich's moneymaking ventures: a health-care think tank financed by six-figure dues from corporations; a consulting business; a communications firm that handled his speeches of up to $60,000 a pop, media appearances and books; a historical documentary production company; a separate operation to administer the royalties for the historical fiction that Gingrich writes with two co-authors; even an in-house literary agency that has counted among its clients a presidential campaign rival, former senator Rick Santorum.
That doesn't count the reported $1.6 million he collected in "consulting" fees from Freddie Mac, which became a problem during his presidential run. You can only imagine the kind of money access-buyers might bestow on Gingrich as a close Trump associate who has been out of office too long to fall under any sort of ethics scrutiny.
It is possible Gingrich will rein in his hunger for wealth in case the wheels fall off of the Trump administration and he's called on to become its unlikely savior in an official capacity. But at the age of 73, he's more likely to stay outside and become crazy rich even as he remains a hot property for the Sunday shows that simply help him market his brand.
As a close observer of Newt Gingrich for more than four decades, dating back to his days as an ideologically anodyne Republican activist in Georgia, I've always thought of him as a man who combined the mind of a policy wonk with the soul of a ward heeler. It is likely that both mind and soul are now leading him in the direction of staying out of the inevitable muddle of a Trump administration, and instead just stuffing his pockets.