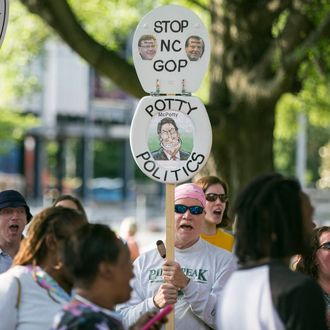 A anti–H.B. 2 protest outside the North Carolina state legislative building in May.
Photo: Al Drago/CQ-Roll Call,Inc.
North Carolina lawmakers announced on Monday that they had struck a deal to repeal the divisive state law that requires transgender people to use facilities that correspond with the gender on their birth certificate, and omits LGBT people from state anti-discrimination protections. However, at the end of a special session on Wednesday, the law was still in place. Lawmakers accused each other of trying to renege on the deal, and now the law that caused athletic associations, companies, and performers to avoid doing business in the state will remain in effect into 2017.
North Carolina Attorney General Roy Cooper — the Democratic governor-elect who was just stripped of some powers in a brazen move by Republicans — had negotiated an agreement with the city of Charlotte, whose nondiscrimination ordinance sparked the statewide law. The city said it would repeal the ordinance passed in February, which included protections based on gender identity, if state lawmakers got rid of the bathroom bill, known as H.B. 2.
But state Republicans were incensed to find that Charlotte officials hadn't completely repealed the ordinance when they met on Monday, according to the New York Times. Charlotte officials denied that they were trying to trick Republicans. "We're not dumb enough to try to trick them or trap them," said Robert E. Hagemann, the city attorney. They met in an emergency session before the legislature convened on Wednesday to complete the repeal.
In the afternoon, the focus shifted to the Republicans' plan to repeal H.B. 2 and impose a six-month moratorium on cities passing nondiscrimination ordinances to protect LGBT people as a "cooling-off period." Senator Phil Berger, the Republican leader in the Senate, said that would give "everyone the opportunity to start over."
But now Democrats said Republicans were going back on their pledge. "As much as has been stated this is pushing a reset button, it only pushes it halfway," said Senator Floyd B. McKissick Jr. "The problem is, after today, we won't be fully back where we were before H.B. 2 was passed. Before H.B. 2 was passed, any city, any town, any community in this state who wanted to enact an anti-discrimination policy was free to do so."
After nine hours of deliberations, mostly behind closed doors, there was no progress on the bill with the six-month moratorium. Eventually lawmakers moved to adjourn. "We'll continue to be the butt of national and international scorn," said Democratic Representative Darren G. Jackson. "We've been sitting here in the chamber all day long, and in the end we did nothing."