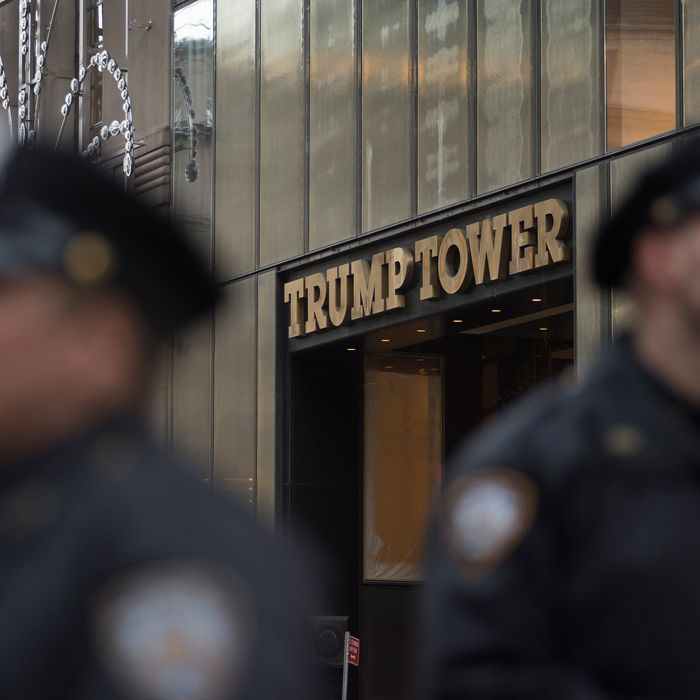 "White House North," as the New York Times has dubbed it.
Photo: Neville Elder/Corbis via Getty Images
President-elect Donald J. Trump won 18.4 percent of the vote in New York City, but its residents might have to pick up about 80 percent of his Trump Tower security tab. Congressional leaders proposed reimbursing the city $7 million to protect PEOTUS headquarters — a figure that's well below the $35 million Mayor Bill de Blasio requested for Trump Tower security from Election Day until the inauguration, on January 20. The city estimates the price of this operation to be shy of $500,000 dollars per day.
Appropriately, Mayor de Blasio fired back on Twitter:
Republican Congressional leaders folded the $7 million into a proposed spending bill that's intended to fund — and avert a shutdown of — the federal government through April. The allocation will only reimburse the costs of overtime work for local and state law enforcement protecting Trump until Inauguration Day. But as the Hill points out, the bill doesn't name New York, meaning some of that money could potentially go to repaying agencies on Trump's victory-tour route.
Police overtime costs are a big chunk of the price tag on Trump's protection, as de Blasio outlined in his letter, because the city can't redirect personnel from other parts of the five boroughs. And it's unclear if or how such security expenses will change after Trump takes office, as First Lady Melania and their 10-year-old son, Barron, plan to stay at Trump Tower through at least the school year, and Trump has said he'd like to pop by and see them in one of the the busiest sections of the Big Apple while running the country. But even if the federal government doesn't pay up, New York City officials say they're not going to stop protecting the future president. Said NYPD Deputy Commissioner of Intelligence and Counterterrorism John Miller: "Trump's security trumps politics."