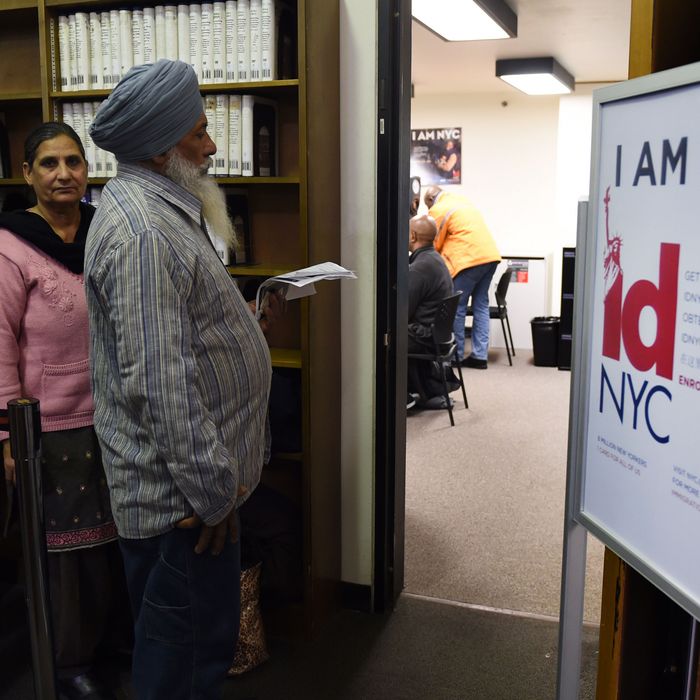 People wait in line to be processed for their New York City municipal ID cards January 14, 2015, at a midtown library in New York.
Photo: Don Emmert/AFP/Getty Images
New York City will stop keeping records on those who apply for the city's municipal ID cards — IDNYC — starting in January. The move, which city officials announced Wednesday, comes as the de Blasio administration is grappling over how to approach a future Trump administration that might be hostile to the program. While open to all New York City residents, its primary purpose is to provide unauthorized immigrants with a valid ID to help them access services.
Instead of keeping copies of records (the city maintains scanned images of application materials from passports to birth certificates to ConEd bills), the city will just verify those documents. But the new policy doesn't affect information held on the 900,000 New Yorkers already enrolled in IDNYC. The program has a provision to delete card holders' data by December 31, which was included in case a not-so-immigrant friendly candidate won in Novemeber.
It's not as simple as pressing the delete button, though. Two Republican state assembly members sued the city to prevent officials from purging the IDNYC records, arguing that it violates public-record laws. (According to the Observer, those state lawmakers filed a Freedom of Information Law request for the IDNYC card-holder data last month; the law prevents records requested under FOIL from being destroyed.) The Assembly members also claim that enforcement agencies might need the data in case of fraud or criminal investigations. As New York reported last week, one of the reasons IDNYC kept records to begin with was to satisfy the NYPD.
Right now, the "kill switch" is off until an appellate court hearing December 21, when the city and those suing to keep the IDNYC records will fight it out. De Blasio has promised to battle the Trump administration if it tries to get hold of card holders' data. "The reason people were willing to trust us is that we made it very clear we would never be in a situation where it would lead to their deportation," the mayor said about the lawsuit, "and we're going to keep that pledge."