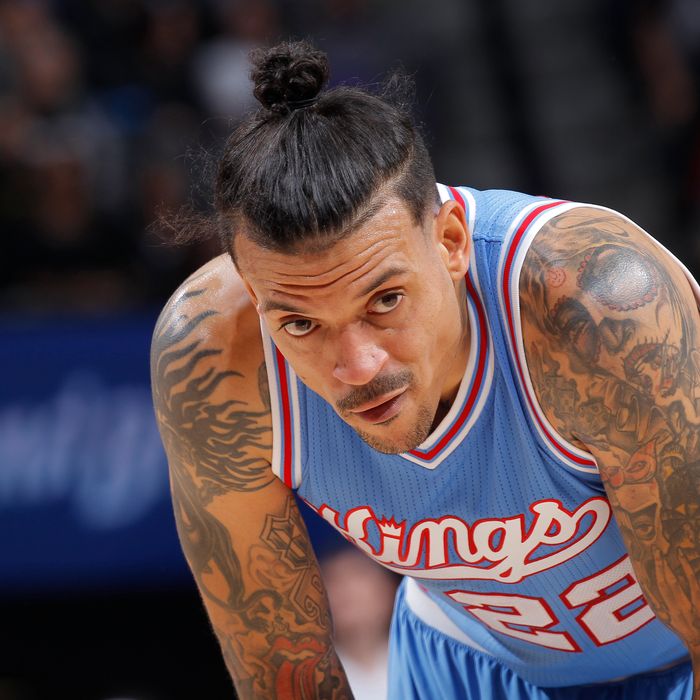 Matt Barnes is back in the news for all the wrong reasons.
Photo: Rocky Widner/NBAE/Getty Images
The NYPD would like to question Sacramento Kings star Matt Barnes after he and his teammate DeMarcus Cousins were involved in an altercation at a Chelsea nightclub early Monday morning after Sunday's game at Madison Square Garden. Barnes is accused of choking a woman and striking two other people in the ensuing brawl.
Barnes has proclaimed his innocence, posting a statement to Instagram on Monday afternoon calling on his 430,000 followers to not "believe everything you read."
According to reports, police received a 911 call just after midnight on Monday saying that Barnes had choked a 26-year-old woman and hit another woman and a man who tried to intervene.
TMZ posted a video that purportedly shows Cousins outside the club just after the fight. In the clip, the man shakes his right hand and says, "F***, man, I done f***ed my s*** up," before adding, "The n**** was trying to choke Matt; I hit the s*** out this n****."
USA Today quotes an unnamed source saying that footage taken at the scene shows that Barnes was in fact the attacker.
Monday's episode is just the latest in a series of misadventures that have kept Barnes in the headlines. There was the much-publicized confrontation last winter between Barnes and Derek Fisher, a former teammate who was dating his ex-wife, Gloria Govan. In 2010, Barnes was arrested on suspicion of domestic violence against Govan, but the charges were subsequently dropped. Barnes also found himself in legal trouble for allegedly driving with a suspended license and resisting arrest. And of course there was that time in 2011, when Barnes punched one of his opposing players in the face during a game.
Though he had left the scene by the time the police arrived, Alex Spiro, Barnes's lawyer has said that his client "is cooperating with the NYPD's investigation."
"We do not believe a crime was committed, said Spiro, "and are hopeful no charges will be pressed."
The Kings released a statement about the incident on Monday afternoon:
"We have clear standards of conduct and behavior expected of the entire Kings organization — on and off the court. We are working with all parties involved to gather information in order to take any appropriate next steps."