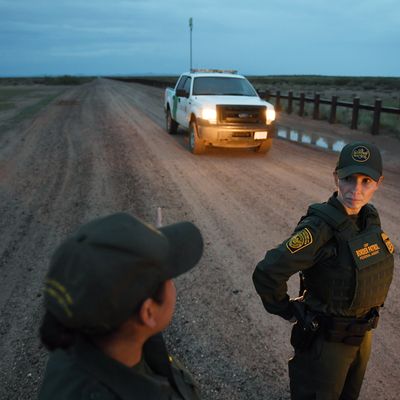 On the front lines in New Mexico.
Photo: Matt McClain/The Washington Post/Getty Images
According to an investigation by the New York Times, more than 200 Homeland Security (DHS) employees and contractors have accepted nearly $15 million in bribes over the last ten years. In return, these border-security officials have turned a blind eye as tons of drugs and thousands of undocumented immigrants were smuggled over the border.
Reporters discovered that in addition to providing intentionally lax border security, employees were guilty of a whole raft of serious crimes — even, in one instance, providing information to a drug cartel that was used in the attempted murder of an informant.
DHS workers also illegally sold immigration documents, including green cards, and accessed secure law-enforcement databases on behalf of drug dealers and criminals.
While these findings sound damning, officials who have accepted bribes still only account for about 1 percent of everyone working at the DHS. Still, as the inspector general at the Department of Homeland Security John Roth points out, even "one person alone can do a lot of damage."
In some ways, the corruption on the border is actually a product of improving border security. As America has cracked down on its borders using drones, widespread surveillance, and state-of-the-art equipment, criminals, smugglers, and immigrants looking for passage to the United States have had to look for new approaches, and exploiting human fallibility is an obvious option.
The DHS is aware of its problems. The department has inaugurated new, more comprehensive ethics training for employees, taken on extra internal-affairs investigators, and started using polygraph tests on new hires — though James Tomsheck, the former head of internal affairs at Customs and Border Protection, has claimed that, in one case, a lie detector test didn't prevent the department from hiring an active drug cartel member.
Just this month, the FBI collaborated with the Department of Homeland Security to launch a campaign aimed at raising awareness of corruption along the border, asking the public to report anything suspicious they see, including instances of government employees letting people and shipments into the U.S. "We want to know what people are seeing and hearing," wrote Sergio Galvan, chief of the FBI's Public Corruption Unit, in a statement about the new campaign, "whether you are a frequent traveler, a truck driver, or a law enforcement official who works on the border."
Customs and Border Protection agents seem especially vulnerable to bribes. The Times found that "dozens of its officers" have been "arrested and charged with bribery." Now, Mark Morgan, a one-time FBI agent specializing in corruption, will helm the border patrol.
So far, changes at the department have yet to put a stop to the corruption. In 2016 alone, 15 DHS employees have run afoul of the law, having been accused or convicted of accepting bribes.
As recently as last week, one 10-year patrol veteran was charged with attempted distribution of methamphetamine and cocaine and receiving a bribe as a public official after he was caught personally picking up packages of drugs left at the border fence and delivering them to drug dealers in the U.S. in exchange for bribes.
In other cases, reporters found webs of corruption worthy of an episode of The Wire. In November of this year, a United States Citizenship and Immigration Services officer in Los Angeles admitted to accepting bribes from immigration lawyers. In exchange for $53,000, the officer, Daniel Espejo Amos, fraudulently certified that 60 immigrants met the criteria for citizenship. He even provided answers to the naturalization test to immigrants who could not speak English, so they could memorize them.
A report released this spring found that there is still serious structural work to be done at the department and its agencies. Among other suggestions, it called for increasing the number of internal investigators from 200 to 550. Meanwhile, the department's 2017 budget allows for an increase of only 30 new investigators.
Donald Trump has made border security the centerpiece of his campaign, and famously promised to deport undocumented immigrants and build a wall along the border with Mexico. If problems of corruption remain unchecked, Trump might find that it takes more than physical barriers to seal up a country's borders. Any wall, no matter how tall or "beautiful," is only as steadfast as the men and women who run it.