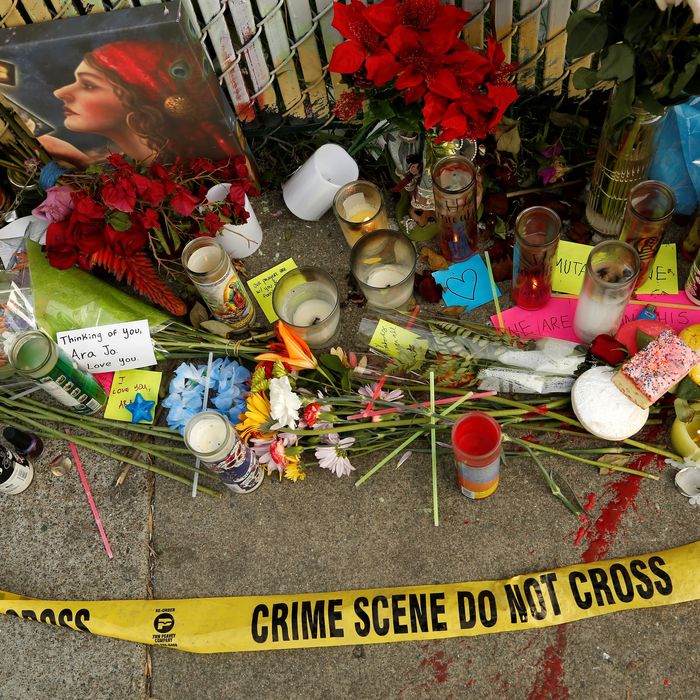 A makeshift memorial in front of the ruins of the Ghost Ship.
Photo: Anadolu Agency/Getty Images
On Tuesday, the Bureau of Alcohol, Tobacco and Firearms will give a press conference announcing their findings in the investigation of the Oakland "Ghost Ship" warehouse fire on December 2. They are expected to report that the fire, which killed 36 people, was caused by an overloaded electrical system.
According to the East Bay Times, which spoke to people with knowledge of the property, the warehouse's electricity — which served the dozens of artists who lived there as well as the equipment for the live shows it hosted — was provided by "an ad hoc network of extension cords stretched through a maze of small dwelling units and studios, all fed from one line coming through a hole punched in the wall to a neighboring business."
The paper quoted one former tenant of the space, Del Lee: "I tried to throw a party, and the power would shut off — because of the way it was set up, all the plugs were in the same sockets," Lee remembers. "The whole place was wires and cables and wood … It would spark and smell."
An earlier theory voiced by investigators that the fire was caused by a malfunctioning refrigerator has been disproved, and authorities have not been able to single out any specific appliance that was responsible.
As the Oakland Fire Department has increasingly come under scrutiny, including accusations that they failed to adequately inspect the property — the warehouse was absent from the city's inspection rolls and apparently it had never been inspected — scores of firefighters joined in a vigil Monday night, marching from Oakland Fire Station 13 to what is left of the Ghost Ship.
While the ATF's investigation is being wrapped up, a second criminal probe is still ongoing. Arson is not suspected.