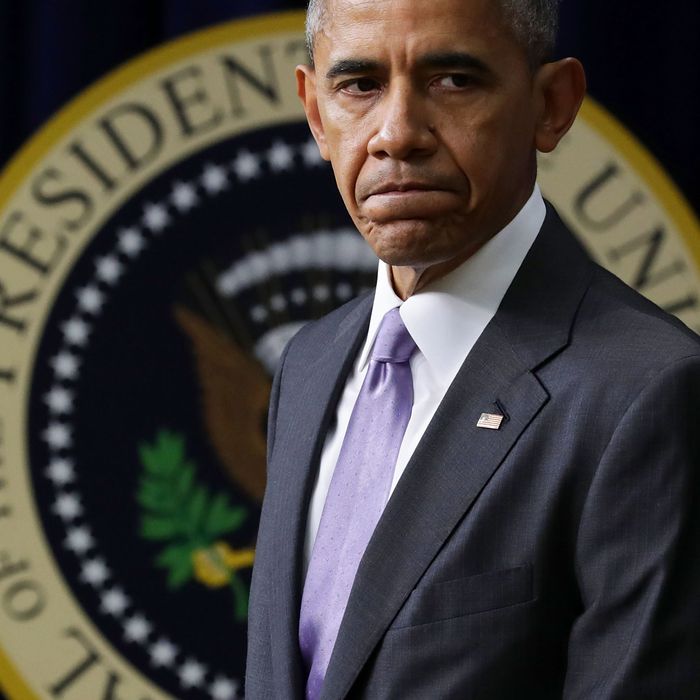 Obummer.
Photo: Chip Somodevilla/Getty Images
When Barack Obama exits the White House, he will leave behind the strongest, most progressive legacy of any Democratic president since Lyndon Johnson — and the weakest Democratic Party America has seen in nearly a century.
That latter fact threatens to erase the former one in short order.
In a new interview with NPR's Steve Inskeep, the president argues that his party's struggles are the products of its failure to "show up" outside of its urban strongholds — a diagnosis that indicts both Hillary Clinton's campaign and Obama's own inattention to state-level party-building.
"There are some things that we know are a challenge for Democrats — structural problems. For example, population distribution, oftentimes younger voters, minority voters, Democratic voters, are clustered in urban areas," Obama told NPR. "And so as a consequence you've got a situation where there're not only entire states but also big chunks of states where, if we're not showing up, if we're not in there making an argument, then we're going to lose. And we can lose badly, and that's what happened in this election."
While noting that Hillary Clinton won the popular vote, the president highlighted the "substantial number of voters out there who not only voted for me twice but currently support me who also voted for Donald Trump" — and then suggested that Clinton could have done more to reach them.
After arguing that Democrats' policy agenda is a fundamentally popular one, the president said, "There are clearly, though, failures on our part to give people in rural areas or in exurban areas a sense day-to-day that we're fighting for them or connected to them."
"And I've said this before. Part of the reason I got elected twice, and part of the reason why in a lot of these communities I still have pretty strong support — it was the incredible benefit that I had in first running for the United States Senate in a state that has a lot of rural communities," Obama said. "And just sitting down in people's living rooms and VFW halls and at fish fries and listening to people … I might still lose the overall vote and some of these counties or some of these voting districts, but I might lose 55-45 or 60-40 rather than 80-20. That's as a consequence of not only them seeing me in these places but it's also a consequence of me actually being there and hearing them."
It's hard not to read irritation with the Clinton campaign's strategy — which prioritized turnout among reliably Democratic constituencies over persuasion of unfriendly voters (to a greater degree than Obama's had) — into these lines.
And yet, Obama's critique — like his party's problems — is much larger than any tactical misjudgment that Robby Mook may have made.
"When I say show up, I don't just mean during election time," Obama said. "I am a proud Democrat, but I do think that we have a bias towards national issues and international issues, and as a consequence I think we've ceded too much territory. And I take some responsibility for that."
The president explained that, amid the emergency of the financial crisis, he'd found little time for ensuring that down-ballot Democrats could benefit from the organizing his presidential campaign had done. In fact, the president's nonprofit group Organizing for Action refused to share its data on small donors, volunteers, and activists with the DNC. Obama also received some intra-party criticism for his (perceived) reluctance to raise money for Democratic super-PACs, and his failure to direct party resources into state-level progressive organizing, to counter the considerable influence of Koch-backed entities.
Obama told NPR that he intends to make party-building a central focus of his post-presidential political work. In particular, he expressed interest in becoming Team Blue's bench coach.
"What I am interested in is just developing a whole new generation of talent. There are such incredible young people who not only worked on my campaign, but I've seen in advocacy groups," Obama said, expressing his desire to provide such young people with "whatever resources, credibility, spotlight that I can bring to help them rise up."
The Democrats will surely appreciate any help their popular sitting president can provide — after November 8, the party has a lot of rising up to do.