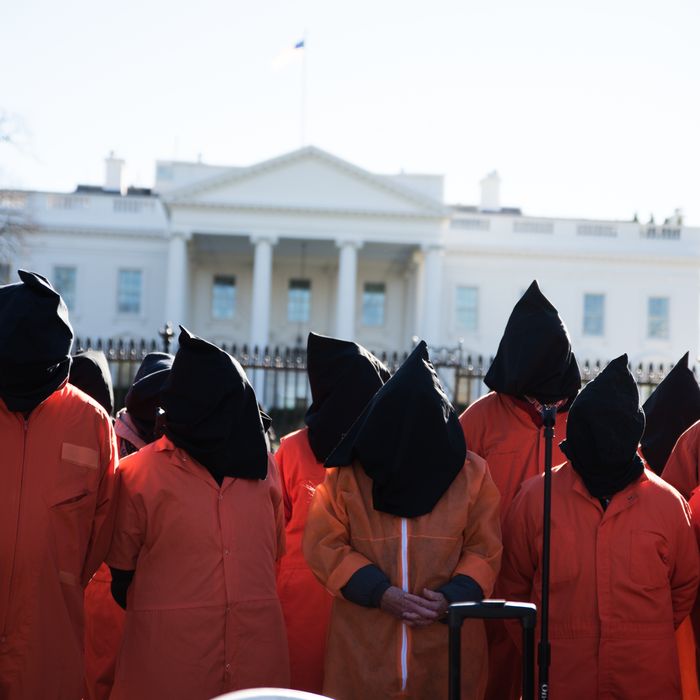 The White House takes notice.
Photo: Monica Jorge/NurPhoto via Getty Images
With just hours to go before the deadline to notify Congress, the White House announced its intention to transfer 17 or 18 detainees from the American prison at Guantánamo Bay.
Italy, Oman, Saudi Arabia, and the United Arab Emirates have agreed to resettle detainees. There are currently 59 prisoners at Guantánamo Bay, but this move would leave either 41 or 42 left for Donald Trump to deal with. Of those prisoners, 10 have been charged or convicted in military trials and 27 were never charged but are still considered too dangerous to release.
This move is certain to be the last of its kind from the Obama administration. By law, the Pentagon must tell Congress at least 30 days before any transfer. With the end of Obama's tenure in the White House looming, that deadline fell on Monday.
Throughout his presidency, Obama has made the closing of the Guantánamo Bay detention camp a major goal and policy position. Obviously, he has been unsuccessful, but he has managed to decrease the prison's population dramatically in the last eight years; when he first entered the White House there were 242 detainees being held there.
The announcement capped what was a very busy day for the president when it comes to dealing with America's prisoners and ex-prisoners. Also on Monday, he announced the commutation of sentences for 153 prisoners, and full pardons for a further 78 people — more than doubling the number of pardons he granted during his presidency and handing down more clemency in one day than any other president in American history. While Obama still hasn't pardoned as many people as some of his predecessors, he has commuted the sentences of many more convicts than any president before him: He has granted 1,176 commutations mostly for non-violent drug offenders, including commuting 395 life sentences.
In a statement, White House counsel Neil Eggleston said that Obama's actions "exemplify his belief that America is a nation of second chances."
Donald Trump has taken a remarkably different tack than the president when it comes to the controversial prison camp. Far from promising to continue Obama's efforts to shut Guantánamo down, Trump has said that he will keep it open and "load it up with some bad dudes."