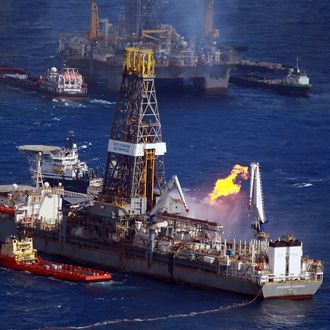 Don't drill baby, don't drill.
Photo: Joe Raedle/Getty Images
President Obama will announce this week a plan to permanently ban offshore drilling in U.S.-owned waters in the Atlantic and Arctic Oceans, according to multiple reports. Obama will reportedly use a rarely invoked provision of a 1953 law that gives the president the right to prevent the sale of drilling rights in certain waters. Typically, the law is used to temporarily exempt waters from drilling. Last month, for example, Obama banned drilling in the Arctic Ocean until 2022. But Trump could easily reverse that ban.
That's why the President is reportedly going to use a provision of the law that allows for a permeant ban on selling drilling rights. Previously, the provision had only been used protect "coral reefs, walrus feeding grounds and marine sanctuaries," Bloomberg reports.
Trump would have a harder time reversing this ban, which would be made under law rather than executive action. But that doesn't mean he wouldn't try. Republicans, as you may recall, control both the House and Senate, and once Trump takes office they won't have a hard time changing laws.