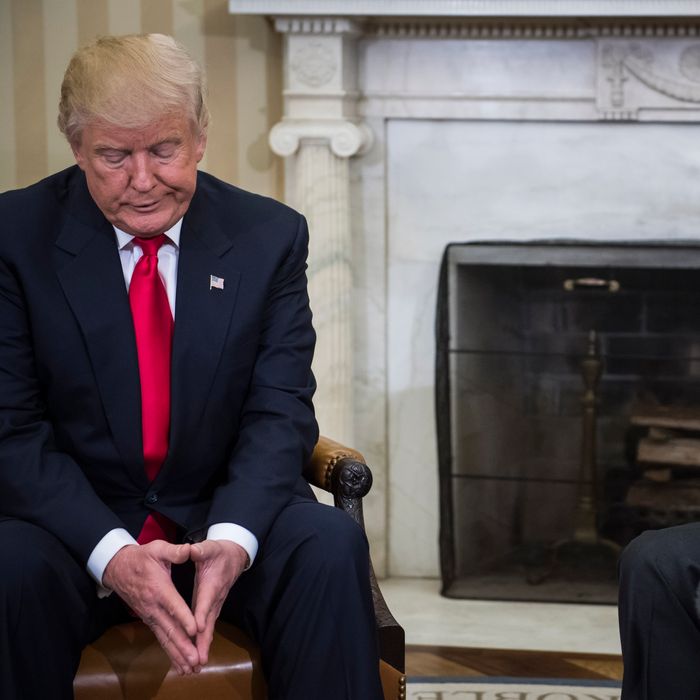 Eye to eye?
Photo: The Washington Post/The Washington Post/Getty Images
On Tuesday, President Obama gave what is likely to be his last major national-security speech, defending his choices at home and abroad, and laying out what he feels the future must hold if the world is to become an ever more secure, more peaceful place. Not one to relinquish the spotlight, Donald Trump laid out his vision for the American military and its role on the world stage during a Tuesday-night stop on his "thank you" tour.
Obama treated his speech at MacDill Air Force Base in Tampa — home to U.S. Central Command and Special Operations Command — as a chance to make the final case for his security strategy just six weeks before he gives up the White House. He touted his success in weakening the Islamic State, saying that through utilizing a "network of partners" the United States has been able to "break the back" of the terror group.
But the president spent the bulk of his speech addressing America's values. In words that often seemed like a direct rebuke to Trump's inflammatory campaign rhetoric, Obama stressed that the only way terrorists can win is if we let them "scare us into changing the nature of who we are and our democracy. These terrorists can never directly destroy our way of life. But we can do it for them if we lose track of who we are and the values that this nation was founded upon."
Obama also warned against becoming too dependent on military action as a means to solve complicated global issues:
So rather than offer false promises — that we can eliminate terrorism by dropping more bombs, or deploying more and more troops or fencing ourselves offer the rest of the world — we have to take a long view of the terrorist threat … We have to pursue a smart strategy that can be sustained.
His words stood in sharp contrast to Trump's. Speaking in front of an audience of his supporters in Fayetteville, North Carolina, Trump laid out his vision of the American military's role in global affairs, which amounted to both a large-scale military buildup and a new dedication to isolationism.
"We will build up our military not as an act of aggression, but as an act of prevention," he said. "In short, we seek peace through strength."
At the same time, Trump said that the days of "intervention and chaos" were at an end.
"We will stop racing to topple foreign regimes that we know nothing about, that we shouldn't be involved with. Instead," he said, "our focus must be on defeating terrorism and destroying ISIS, and we will."
Trump assured the cheering crowd that he would expand the military and boost its funding by calling on Congress to roll back existent budget caps on defense spending.
"We don't want to have a depleted military," he said, "because we're all over the place fighting in areas that we shouldn't be fighting in."
Earlier in Tampa, Obama had twice seemed to call out Trump directly on promises he made in the run-up to the election. He called on his successor to close the prison camp at Guantánamo Bay — something Obama himself could never quite accomplish — and spoke out forcefully against the use of torture, which Trump had said he would encourage, along with killing terrorists' families.
And Obama reiterated that the United States was not at war with Islam. "If we act like this is a war between the United States and Islam, we're not just going to lose more Americans to terrorist attacks, but we'll also lose sight of the very principles we claim to defend," he said.
Obama's remarks on Islam took on an air of urgency, even desperation, in light of Trump's recent choice of retired Army lieutenant general Mike Flynn for his national-security adviser. Flynn has been outspoken about his disdain for Islam, calling it a "vicious cancer." Obama's national security adviser Susan Rice will meet with Flynn at the White House on Wednesday.
Trump also took the opportunity on Tuesday to officially introduce another member of his security team: General James Mattis, his pick for Defense secretary.
Mattis was gracious in addressing the crowd, saying, "I look forward to being the civilian leader as long as the Congress gives me the waiver and the Senate votes to consent." Mattis retired in 2013, and the law bars retired military officers from serving as Defense secretary for seven years to maintain civilian control of the Pentagon.
Trump seemed incapable of letting a threat pass him by. "We're going to get you that waiver," Trump said, taking the microphone. "If you don't get that waiver there are going to be a lot of angry people."