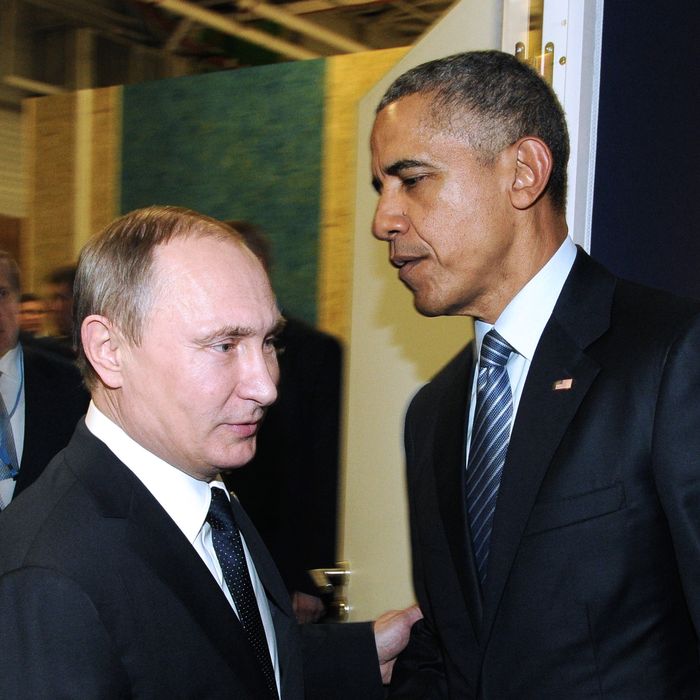 Photo: MIKHAIL KLIMENTYEV/AFP/Getty Images
Yesterday on Twitter, Donald Trump responded to reports that the CIA believes Russia leaked Democratic officials' emails in an attempt to help Trump win the election by lying on Twitter about the fact that complaints about Russian hacking came up before the election:

There have been legitimate questions raised about why Obama waited "so long to act," and in an NPR interview set to air on Friday morning, Obama said he's not letting Russia slide.
"I think there is no doubt that when any foreign government tries to impact the integrity of our elections that we need to take action and we will — at a time and place of our own choosing," Obama said on "Morning Edition." "Some of it may be explicit and publicized. Some of it may not be."

While intelligence agencies said before the election that they believed Russia was behind the hacks of Democrats' emails, at the time, the Obama administration only said there would be a "proportional response" if those allegations proved to be true. A week before the election, the U.S. warned Russia not to target "U.S. state election-related systems" via a hotline between the two nations.
Obama also raised the issue privately with Putin on the sidelines of the G20 in September. "Mr. Putin is well aware of my feelings about this because I spoke to him directly about it," Obama told NPR.

According to NBC News, the Obama administration chose not to make a more forceful stand against Russia because they wanted to avoid an escalated conflict with Russia and the appearance of election meddling themselves — plus, they thought Hillary Clinton would win.

In 2015, Obama issued an executive order giving the administration the power to impose sanctions on individuals or entities carrying out cyberattacks and cyberespionage. As the New York Times notes, if Obama imposed new sanctions on Russia, Trump could just reverse them, but it may be "politically difficult" for him to do so.

Members of Congress are urging Trump to acknowledge the intelligence agencies' conclusion that Russia is behind the leaks, not some "400 pound guy" working on his own, as Trump put it. But according to the Times, Trump has said privately in recent days that he thinks there are people in the CIA who are out to get him. The revelation that the CIA thinks Russia was trying to aid Trump added fuel to efforts to deny Trump a majority in the Electoral College, which votes on Monday.

Obama said he doesn't think that the hacked emails were the sole reason for Clinton's defeat, but he believes they were a contributing factor. "There's no doubt that it contributed to an atmosphere in which the only focus for weeks at a time, months at a time were Hillary's emails, the Clinton Foundation, political gossip surrounding the DNC," he said. "I have no doubt that it had some impact, just based on the coverage."
In an apparent response to Obama's remarks, Trump suggested in a 6:09 a.m. tweet that focus should be on the content of the hack — specifically, that Donna Brazile shared a CNN town hall question and informed Clinton that the water crisis would come up during a debate in Flint, Michigan — rather than the possibility that a foreign nation successfully intervened in our election.