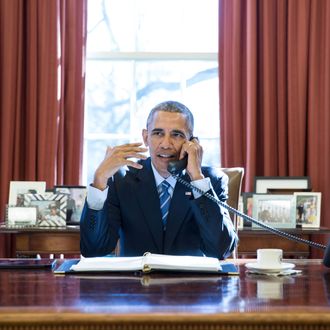 Photo: Pete Souza/The White House
President Barack Obama is joining the chorus of Congress members who want to know if, and how, Russia hacked the recent U.S. elections. Obama has called for a full intelligence review of possible Kremlin meddling, and wants a report due before he leaves the White House on January 20, when someone else moves in who probably won't care.
The New York Times reports that the review will include investigations of hacks of the Democratic National Committee and Clinton campaign chair John Podesta, whose emails were posted on WikiLeaks. In October, U.S. intelligence officials accused Russia of orchestrating the cyberattacks on the Democratic Party. The FBI and other intelligence agencies are still probing those intrusions, and while lawmakers have been briefed, scant details have been made public. Democratic senators have called on the White House to release some of the findings, and two congressional Democrats have proposed a bill that would establish an independent committee to dig into Kremlin's interference. Republican senators are also jumping aboard, and have vowed to hold hearings on Russia's potential influence over the elections, and its possible other nefarious designs on American assets, such as the U.S. military.
It's unclear what, if any, details might be made available after this review. Obama's homeland-security aide Lisa Monaco discussed the president's directive with reporters Friday. "We may have crossed into a new threshold," she said. "And it is incumbent upon us to take stock of that, to review, to conduct some after-action, to understand what has happened and to impart some lessons learned."