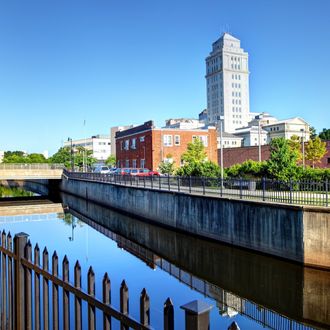 Elizabeth, New Jersey.
Photo: DenisTangneyJr/Getty Images/iStockphoto
Chaos reigned at a mall in Elizabeth, New Jersey, on Monday after a large fight broke out and somebody shouted that shots had been fired. Though there wasn't actually any gunfire — what onlookers thought was a gunshot was actually the sound of somebody throwing a chair — the scene at the Mills at Jersey Gardens quickly descended into pandemonium, with hundreds of holiday shoppers running for safety.
Videos posted to social media show what some news outlets described as a "stampede." Somehow, only two children suffered injuries, both of which were nonserious.
There was a large, heavily armed police presence at the mall for hours after the incident. Meanwhile, traffic was clogged in every direction as people tried to flee the area.
It's been a rough couple of days for New Jersey shoppers.