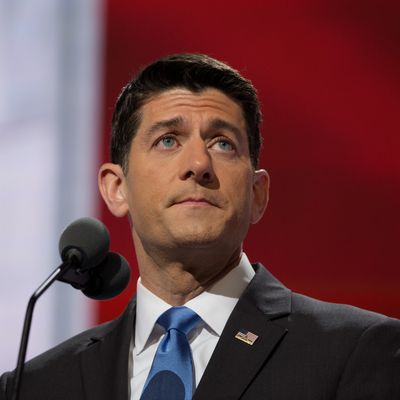 No pictures, please.
Photo: Tasos Katopodis/WireImage
Paul Ryan introduced a new package of rules on Tuesday that would punish lawmakers for taking pictures and videos of procedures on the House floor. While the Speaker claimed that the new rules "will help ensure that order and decorum are preserved in the House of Representatives so lawmakers can do the people's work," his move is widely seen as a response to a sit-in in June orchestrated by House Democrats protesting Republicans' refusal to bring a gun-control bill to the floor.
During the 25-hour sit-in Republicans managed to turn the television cameras in the House — which routinely broadcast the floor's daily business — off. Democrats then turned to livestreaming apps like Periscope, filming the protest on their phones. The livestreams were subsequently picked up and broadcast by CSPAN in lieu of their usual coverage.
Following the protests, Ryan faced criticism from his own party for failing to keep control of the floor.
Under the new rules, which were first reported by Bloomberg, any lawmakers who take pictures of, film, or record audio of House proceedings would face a $500 fine for their first offense, and $2,500 for each subsequent recording. They could also be referred to the Committee on Ethics, which has the authority to mete out other punishments. Fines would be removed directly from lawmakers' paychecks.
Ryan's proposal includes other rules that would make future sit-ins and protests more difficult, including proposed punishments for anybody who blocks the front of the House chamber or its microphones.
The House will vote on the package on January 3.
Democrats bridled at the proposal. California representative Eric Swalwell tweeted: