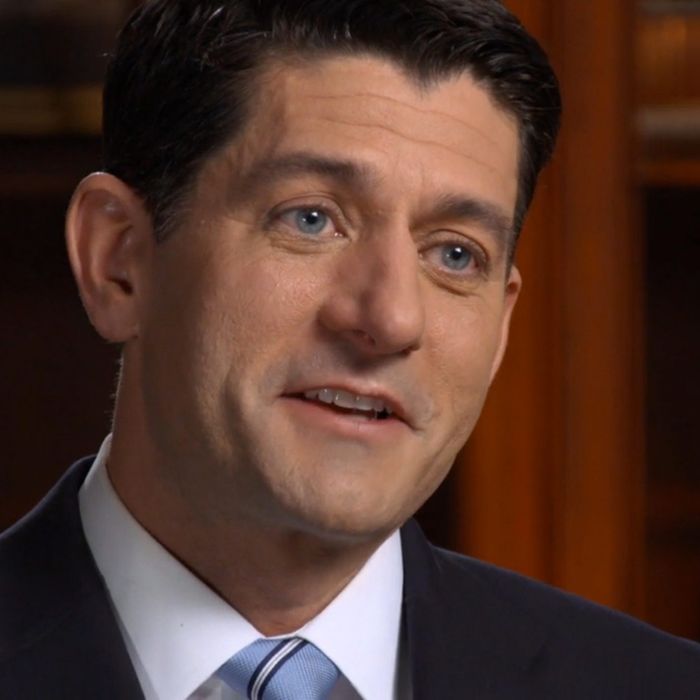 Paul Ryan is being as honest as always.
Photo: CBS
Paul Ryan has devised a tax plan that, when fully phased in, would confer 99.6 percent of its benefits upon the richest one percent of the country. This is a fact Ryan prefers not to advertise. In his interview with 60 Minutes, the Speaker of the House bats away the charge first by talking about growth, and then switching over to talking about "small business":
Scott Pelley: Do you think the rich will benefit the most from your tax reform plan?
Paul Ryan: Here's the point of our tax plan. Grow jobs. Get this economy growing. Raise wages. Simplify the tax system, so it's easy to comply with.
Scott Pelley: You — you're a little shy, when I ask you about the rich receiving the greatest part of the—
Paul Ryan: Well, here's the problem when you—
Scott Pelley: —of the tax cuts.
Paul Ryan: —when you ask these things. Most of that income is small-business income. You have to remember, eight out of ten businesses in America, they file their business as individuals, as people. And so we think of that as the rich. But it's that business in the— in the business park outta Janesville, Wisconsin, that has 50 employees. And do I want to lower their tax rates? You bet I do.
Ryan is using a common fallacy employed by his party to defend regressive tax cuts. To be one of the richest one percent of Americans, you need an income higher than $700,000 a year. Many Americans in that income category receive "pass-through income" — their income is profit from a business. One of those Americans is Donald Trump, according to his 1995 tax return.
Of course, Ryan doesn't want to talk about giving a gigantic tax cut to Trump. Instead, he wants to fool his audience into believing that his tax cuts for rich people mostly benefit small business, which is simply not true.
If Paul Ryan wants to direct tax breaks to people who work at the business park in Janesville, Wisconsin — or to other Americans in that presumably modest income category — there are ways to do it. Instead, he wants to direct tax cuts to the very wealthy, and then obfuscate about his intent to do so.