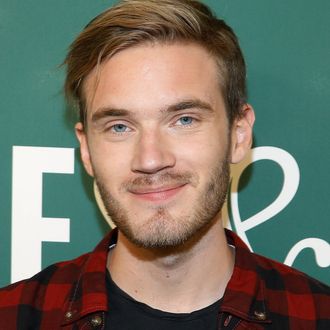 Photo: John Lamparski/Getty Images
Yesterday, PewDiePie, the most popular YouTuber in the world, hit a major milestone: 50 million subscribers. The Swedish gamer, known as Felix Kjellberg in real life, shortly thereafter reiterated his promise to delete his channel, claiming that he would do so this afternoon.
For the past few weeks, Kjellberg has criticized YouTube for various product changes that have made it more difficult for fans to find his videos — back-end tweaks, suggestion-algorithm changes, and the like. He lamented that his channel had grown too large (and joked that YouTube was suppressing his videos because he was white).
In a short video this morning, Kjellberg did technically delete his channel. He deleted an alternate channel named "Jack septiceye2," which had a comparatively tiny subscriber base of one million or so.
Then he proceeded to make fun of everyone who had earnestly picked up the story (including Select All, which wrote on Wednesday: "Is he joking about deleting his account? Probably. PewDiePie makes millions of dollars each year off of his channel, and it's a good gimmick for building up suspense as he reaches the milestone").